Julia Garner Channels Twiggy in a Just-Off-the-Runway Dress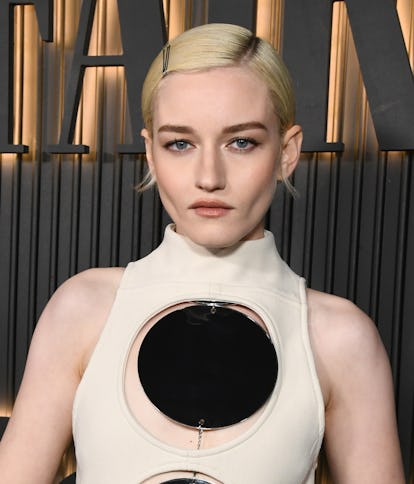 Jon Kopaloff/WireImage/Getty Images
From the runway to the red carpet in one week flat. Not the fastest we've seen a celebrity snatch up a design (these days they're wearing them even before they hit the runway), but still impressive nonetheless. On Wednesday night, Julia Garner attended an event in Los Angeles celebrating young Hollywood, thrown by Vanity Fair and TikTok, wearing a look from the Courrèges fall/winter 2023 presentation, which showed during Paris Fashion Week just seven days ago.
The actress chose the look in Nicolas Di Felice's recent collection that most captures the mod, space age designs that helped popularize the brand under André Courrèges in the sixties. The off-white dress features a high-neck and a-line frame with a hem that ends just above Garner's knees. Down the bodice are two large circular cutouts where two flat silver circle pendants hang in the empty space.
Garner kept the styling simple and similar to how the dress was shown on the runway. She traded out the knee-high white peep-toe boots for a closed toe pair. As for hair, the actress wore it slicked back with a deep side part, turning her into a modern day Twiggy, a woman who would have been right at home in the Courrèges dress as well. Hey, the Madonna biopic may have fallen through, but that just means there's room for another one—perhaps about a certain British model?