At JW Anderson, Two Subversive Artists Provide Inspiration for Fall 2023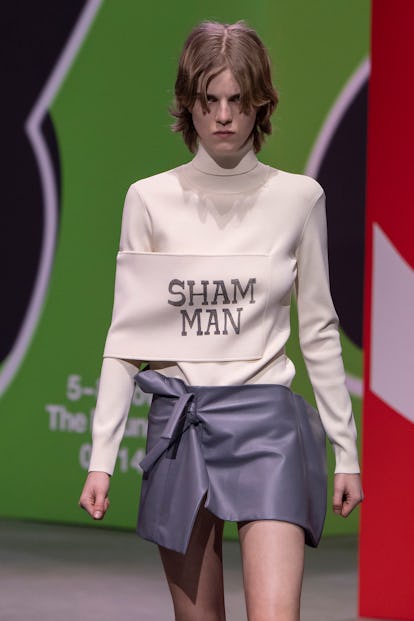 Photo by Victor VIRGILE/Gamma-Rapho via Getty Images
JW Anderson's fall 2023 show had a little bit of everything: a live female bagpipe player, a set that opened in complete darkness, green t-shirts with phallic imagery, and a row front featuring Alexa Chung wearing one of the label's newly debuted, lifelike frog clutches. But such is to be expected from one of the most commercially experimental designers of London Fashion Week.
Michael Clark, the Scottish dancer and choreographer, along with Jonathan Anderson's own archives of 15 years, were the subjects of inspiration for the collection. Inside the Roundhouse in Camden—where many of Clark's performances have previously taken place—models wove between structures featuring some of the dancer's most famously controversial and memorable posters ("Enjoy God's Disco," read one). Meanwhile, they wore odes to him: white Michael Clark logo tank tops, destroyed sweaters with glitter-tipped fingers, and tops with references to the artist's work. Clark is infamously an eccentric dresser who has collaborated with other maximalists like Leigh Bowery. The yellow smiley face short overalls were a more literal interpretation of one of Clark's costumes.
Anderson posted on his Instagram stories after the show that he often resists looking back to the archives, much like Clark—but that the performer also represents the crossroads of fashion and culture. "Dance, music, art, fashion… When I take stock of my own stars, they have all been part of his creative universe," the designer wrote. "Michael Clark is not only a choreographer of bodies, but of British culture at large."
A few of those JW Anderson archives that got a second chance at life? Simple gray suiting, checkered coats, green and orange feather boa trims over khaki dresses, striped logo tees, simple black dresses with a slight flair or ruffle, and tailored asymmetric coats and vests. And while the first part of the collection felt like it was inherently and purposefully wearable, the latter offering nodded to that bit of humor and weirdness for which we know Anderson best: supersized triangular collars, puffs and tufts of ruffled fabric, and tubular collars and hems.
Anderson has a history of successfully navigating collaborations that don't feel stale or overly branded (see his three-part series with Studio Ghibli for Loewe). The designer's fall 2023 collection further cemented that skill. "As I looked back through my own archive for this show, resurrecting elements from each collection of the last fifteen years, Michael let me rifle through his. It helped me pinpoint my obsessions," he wrote.
There's only one thing that would have made the collection feel more complete. Clark's work is famously subversive—even a little brash and confrontational—and there were many looks here that were rather rooted in tradition. It felt like a missed opportunity not to experiment with dance, performance, and more gender-bending on the runway—plus, there weren't any body-diverse models. Still, some of the little gems that riffed on Anderson's signature humor and archives shined bright—like a gray Grecian dress inverted, its folds on the hem and neckline; or chunky, fluffy, strapless hoodies. And then there was the sheer bodysuit with a brown feathered tutu and a top designed to look like it was made out of Tesco bags. These pieces didn't whisper. Like Clark's work, they shouted—and they had the same social media-driven appeal as the label's ubiquitous pigeon clutch.