Everything Kate Middleton Wore During the Coronation Weekend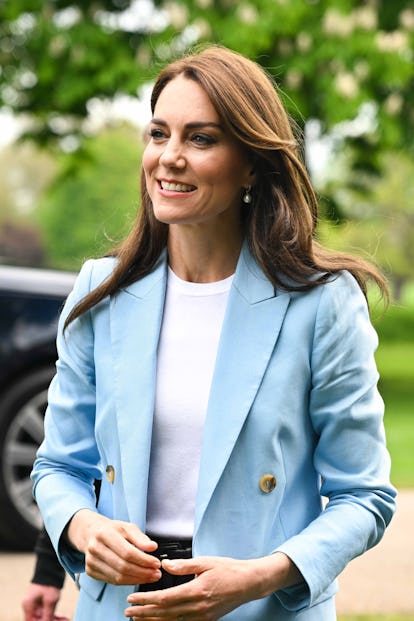 Finnbarr Webster/Getty Images Entertainment/Getty Images
We may receive a portion of sales if you purchase a product through a link in this article.
On Saturday, King Charles III was officially crowned at Westminster Abbey in front of family, faith leaders, and 2,000 of his closest friends. The ceremony was just the pinnacle of the weekend, however, which also included a concert, public walkabout, and day of volunteering, among other events. Thus, it gave Kate Middleton, now the official Queen-In-Waiting, the chance to show off the many facets of her style for the various occasions, and per usual, the Princess of Wales did not disappoint.
Before taking on the ceremony in a white crepe Alexander McQueen gown, on Saturday Middleton has some other duties to attend, including a visit to the Dog & Duck Pub on Thursday, the fourth. Despite the casual setting, the Princess dressed up in a red dress coat from Eponine London, which she wore on top of a white, belted shirtdress from Suzannah London. Middleton kept the accessories minimal for this look, adding a white leather Mulberry top handle bag, and a pair of crisp, white Jimmy Choo pumps.
The next day, Middleton headed just outside of Buckingham Palace to greet the public ahead of the weekend's festivities. This time, she wore a black and white Jenny Packham dress that hit just below her knees. The Princess kept the look simple, pairing the dress with Aquazzura slingback pumps and a Prada clutch. Color then came in the form of the blue Self-Portrait dress she changed into later that evening for a reception at the Palace, which she wore with a more sparkling, blue pair of Aquazzura sling backs and a Jenny Packham clutch.
Then, of course, came the actual Coronation on Saturday, which brought with it the elaborate cape, white dress, and Jess Collett x Alexander McQueen floral headpiece. After wearing that for hours the day prior, it's no surprise that Middleton opted for something a bit more casual for a walkabout on Sunday. While once again greeting the public, the Princess wore a cornflower blue, double-breasted blazer from Reiss over a white top with a pair of black straight leg LK Bennet trousers. In order to stay comfortable throughout the walk, Middleton opted for a pair of Veja sneakers to complete the look.
It was then time to enjoy some performances from Katy Perry and Lionel Richie at the Coronation Concert. In order to do so, Middleton changed into a bright red suit from Alexander McQueen, featuring an asymmetric jacket and subtly bootcut trousers. A gold and pearl necklace and matching earrings from Van Cleef & Arpels then added some sparkle to the otherwise monochrome ensemble.
That brings us to Monday, or the Big Help Out, where a large volunteering drive took place to close out the Coronation weekend. The Princess was joined by her three kids, as well as Prince William in Slough, England where they helped the 3rd Upton Scouts Hut renovate a building. After some hard work, the Royals were able to enjoy themselves a bit, trying their hand at archery and indulging in some s'mores. Of course, a custom Jenny Packham set or Alexander McQueen suit wouldn't have lasted during a day in the mud, so instead Middleton wore a pair of black skinny jeans with cargo pockets. Always the Princess, though, Middleton wore the pants with a feminine light blue blouse. Luckily, she opted for some Blundstone boots to keep her comfortable throughout the day.
If this weekend of looks proves anything, it's that Middleton's style likely won't change post-Coronation, but she will continue to embrace the bright, primary colors and monochrome looks she has always favored. That being said, the Princess is not afraid to get comfortable, though when she does so, she still remains prim and in style.
Shop Kate's weekend of looks:
We may receive a portion of sales if you purchase a product through a link in this article.