Kate Middleton Perfects the Princess Pantsuit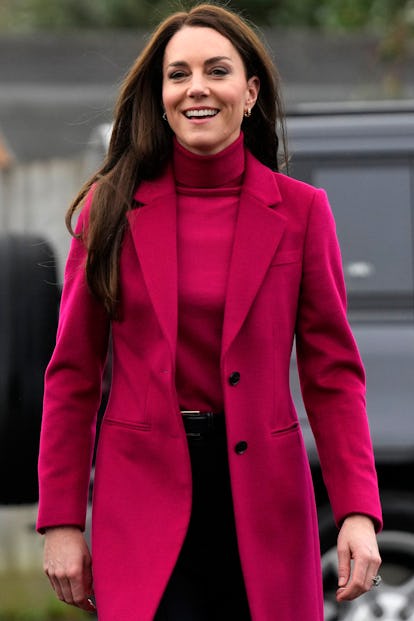 WPA Pool/Getty Images News/Getty Images
Kate Middleton remains busy and unbothered as she prepares for the launch of her new campaign, Shaping Us, for her Royal Foundation Centre for Early Childhood. On Monday, Kate headed over to the BAFTA headquarters in London where she made a speech about "the critical importance of early childhood and how it shapes the adults we become." Shaping Us will become a big part of her work as the Princess of Wales. It was important for her to start the campaign on a high note, so it's fitting that she attended the event looking very much the business woman in a sleek suit.
Kate, who usually favors monochrome looks, opted to double down on red for the occasion, wearing a scarlet Alexander McQueen suit featuring structured shoulders, an asymmetric closure, and wide-leg pants. She paired the look with red suede shoes, a matching clutch, and earrings from Chalk, a London-based handcrafted jewelry brand. Kate's specific style were inspired by the "main stage auditorium ceiling of the Royal Opera House," according to the brand's website, and they seem to be a favorite of the Princess', as she has worn them before.
Apparently, McQueen has been chosen as Kate's outfitter for the campaign launch as, a day later, the Princess stepped out again in a look from the house. On Tuesday, she was spotted at the University of Leeds, speaking with students in the childhood studies program. For the appearance, the Princess wore a gorgeous, emerald McQueen coat. This time around, she didn't go monochromatic, and opted to pair the top layer with brown, knee-high Gianvito Rossi boots and a belted cream knit dress by Victoria Beckham. She did carry a matching green suede Manu Atelier bag, however.
Likely, the campaign launch will continue to take up Kate's time for the near future, and will require more public outings, and therefore more looks. So, keep your eye out and, if the Princess' past preferences mean anything, expect to see a whole lot of green, blue, and red looks, always with a touch of suede.