Kelly Bensimon on her jewelry line, Owl-gate, Milton and more
When Kelly Killoren Bensimon developed a reputation for being late (among other things) on The Real Housewives of New York City, I wasn't surprised. This is a woman I once saw burst into the Metropolitan...
---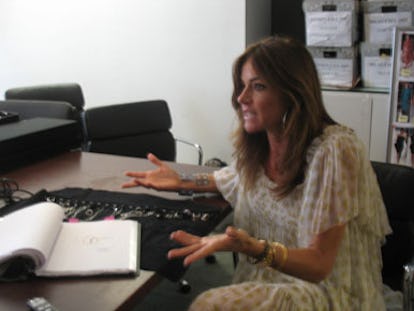 The self-described "mother-author-equestrian" came by to introduce us to her latest hyphenate: jewelry designer. With her identically-dressed daughters Sea, 11, and Teddy, 8, in tow, Bensimon showed us the latest designs from her Kelly collection, a collaboration with bling brand Mouawad. The extensive line of fashion necklaces, cuffs, earrings and rings retail in the recession-friendly range of $32 to $336 and hit stores including Kitson and Intermix in two weeks.
As for her Housewives gig, Bensimon told us she has signed on for a second season, knowing full well that she could wind up the villain again. "I think that because I'm so down-to-earth they're like, 'Okay we have to pump her up a little bit because otherwise people are not going to believe'…If they want me to be some kind of crazy socialite, I'm not a socialite. I'm a working girl, a single mom. Listen, it's fine."
What inspired you for this collection? I love Navajo and I love the idea of taking Pocahontas out of the kayak and putting her into the disco. Everyone knows that she's had enough in her little canoe and now she's out and having fun in the disco. It's the idea that it's Navajo, but also it's pavé and really, pavé that's my forte. I love bling. I love understated flashy.
So, have you always loved all things Navajo? Well—I saw the [fall 2008] Anna Sui show and I'm like, that is what I want to do. First of all, I have so much respect for her, she's such an incredible researcher, and when I was looking at it, I was like, I love that.
Are the designs on the pendants actual Navajo symbols? Not really. All of them are just interpretations. I was like, okay, we should do this with these colorways. I just want it to be fun and great, colorways. I like florals. I like geometric.
What about these snake symbols on the rings and bangles? I've always been obsessed by the snake. I don't know, maybe it's from Milton, maybe it's dangerous, I don't know what the root is. I just think it's very, very sexy and mysterious, and then in pavé it becomes another level.
And this other design— That's the pod, which is something that's really going to be the staple of the line. It comes in lariat. I like the lariat because it brings the attention down. Everyone likes up, I like down. I'm like, bring it right here [motions towards her chest]! There are two parts of a woman's body men like, and so we're focusing on one.
Do you think your being on Housewives will help your collection? I think the show is a great vehicle because it shows a certain aspect of my lifestyle. I think that the chattiness [Ed's note: we think she meant "cattiness"] of the show is just the nature of the Housewives brand, but I think it's really really good to see me riding horses, on vacation, hanging out with my kids, so you can see a portion of my life. Let's be honest. Am I going to parties every night? No. I'm having popcorn parties with my kids.
We have to ask you—what's going on with your owl collection? [Ed's note: In April, Tuleste Market designer Celeste Greenberg claimed Bensimon cut her out of an agreement to collaborate on producing owl-pendant necklaces.] That's done. In all honesty, I wish Celeste had come to me and said, "I want press," and I would have given her press in the right way. There's really no suit. It's finished, it's over. It was basically to just get press for her own line and that makes me really disappointed because that means I'm not picking the right people to help. So now, instead of being like, "Oh, let me help you, you're new," you're a stylist or assistant, my instincts are totally different.
Do you have any formal design training? Not really in terms of jewelry. I just know a lot about accessories from my mom and from traveling. To be honest with you, [ex-husband and former Elle creative director] Gilles [Bensimon] was one that really inspired me in terms of jewelry. He's always really, really, really pushed accessories.
In terms of your own jewelry, we've noticed you love hoops. But there aren't too many in the line. I know, I'm the hoop queen! And they were like, "Okay we'll do some hoops." But when people go into stores, they don't really buy hoops for some reason, like, they want them smaller. I like them bigger, kind of Italian mama—although I don't make pasta.
Would you ever consider doing more reality TV? I did sign up for another season.
Even hearing all the things that were said about you after the first season? Yeah, I mean, listen. I'm open to it. I'm open to you writing about me, I'm open to being on television, I'm open to going into a photography studio and somebody being like, "Okay, we're going to make your hair curly and put huge shoulder pads on you." I didn't realize it was going to be so chatty. [Ed's note: again, we think she meant "catty."] I didn't. I was really caught off guard by that. I just thought it was funny that like people were like, "Oh she says 'like' all the time, therefore she's uneducated." I said, "You know what? If that's what you want to think, go for it."
Is it hurtful, some of the things people said about you after the show? To say that I'm not sensitive is a lie. Yeah, it's really hurtful when people say mean things, or they're like, "Oh, you're tall and skinny." Those are my genetics! What do you want me to do, cut my legs off? So you either like it or you don't. I'd rather be someone where people have an opinion than to just be complacent and oblivious and kind of like, "Who is that?" I'd rather have people recognize who I am and have an opinion. [Pause] Clearly, they have an opinion.
Stay up-to-date with W magazine's Editors' Blog! Click HERE to sign up for our e-newsletter.
Drawing courtesy of David Gilmore of Pretty on the Outside.