Kendall Jenner's "Auntie" Easter Dress Is a '90s Grail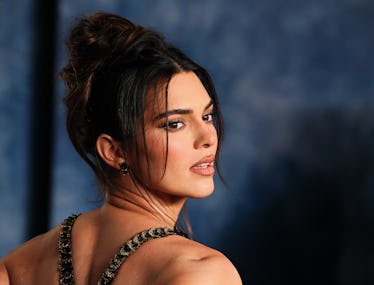 Leon Bennett/FilmMagic/Getty Images
Kendall Jenner might have shown up to her Easter family function as the only sibling without children, but she did have quite the "fun aunt" uniform. Jenner reached all the way back into the '90s to find the perfect spring frock for the gathering—one that was originally worn on the runway by none other than Naomi Campbell.
Even without a historical connotation, the ash-lavender silk dress still would have been an Instagram hit. The lace detailing on the bodice held on the body by super-thin strap is the perfect mix of '90s nostalgia and current flirty and fun. She finished the look off with a pair of DMY by DMY's Billy sunglasses. This being Jenner, however, it's not just any dress.
Indeed, it comes from Chloé's spring 1998 collection. Karl Lagerfeld had designed for Chloé throughout the late '60s and '70s, during a tenure that would help cement both his and the brand's reputation; the late designer returned to the label for a spell in the mid '90s. Ultimately, though, it was a short-lived reunion. He was juggling duties at Fendi, Chanel, and KL (as his own label was known at the time).
The brand's president Mounir Moufarrige wanted his successor to be someone " who brought youth and creativity," and picked young McCartney. The daughter of the Beatles's Paul McCartney, McCartney was just a few years out from graduating from Central Saint Martins fashion school and had a stint working under Christian Lacroix on her CV.
Although it wouldn't have been notable at the time, McCartney also famously brought her Saint Martins's classmate Phoebe Philo along with her as a design assistant (Philo would succeed McCartney at Chloé in 2001, when the latter left to start her own brand).
It's a simple, cute dress that looks great on Kendall. But it could be read as an instance of one daughter with a famous last name supporting another. Because of their familial connection, both Jenner and McCartney had detractors at the start of their careers in fashion. Look at them now.