Kylie Jenner Just Wore The New Mugler Collection A Week After Its Debut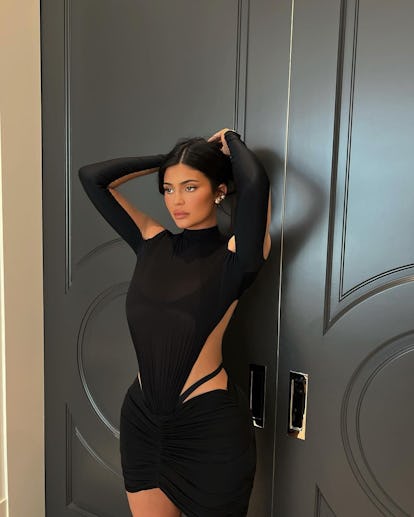 Instagram/@kyliejenner
If the Kardashian/Jenner family loves anything, it's to flex their access. Whether it's celebrating a birthday on a private island in the middle of COVID, or wearing a historically-significant dress on the Met Gala red carpet, the famous sisters love nothing more than to prove their pull. So, when Kylie Jenner shared a photo on Tuesday wearing a look that debuted in a collection just a week prior, it wasn't too surprising, albeit still impressive.
The beauty mogul took to Instagram to share of trio of shots leaning against a pair of matte black doors, modeling her latest look, a piece from the Mugler spring/summer 2022 collection. The mini dress features a mock high-neckline and long sleeves, with cutouts starting at the shoulders and continuing down the arms. The slightly sheer fabric then covers her chest just before gathering right above the skirt, allowing for more cutouts on each of Jenner's sides, and a faux-thong strap effect. Jenner styled the look simply, as it was shown in the collection, just with a pair of open-toed heels with a sock-like leg piece reaching up to the knees.
The dress first debuted last Wednesday, along with 33 other looks as part of Casey Cadwallader's latest collection for Mugler. In a nine and a half minute video, Megan Thee Stallion, Chloë Sevigny, Bella Hadid, and more, roll around in their sheer-paneled pants and cutout dresses. In fact, Jenner's look is possibly the most covered-up from the collection, which is surprising for the youngest Kardashian/Jenner sister who usually doesn't shy away from showing a lot of skin. But if she got her hands on this dress so quickly, there's no reason why she can't pull from the collection again, and maybe next time, we will see her wearing something a little more revealing.