At Loewe, Jonathan Anderson Tests the Normcore Waters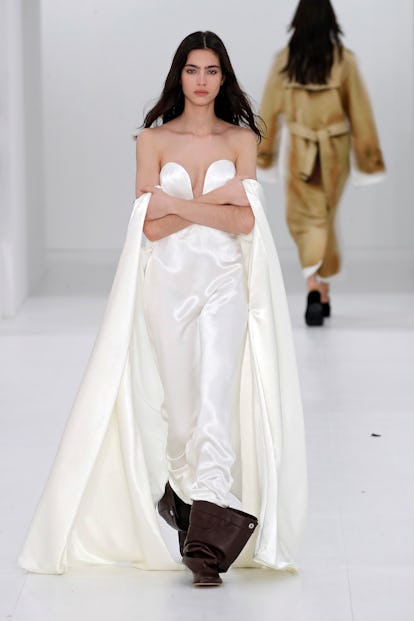 Loewe fall 2023. Photo by Estrop/Getty Images
Jonathan Anderson is a shapeshifter. For the past couple of seasons, the creative director at Loewe has doubled down on surrealism with campy proportions and larger-than-life shapes. But for fall 2023, Anderson went in a slightly different direction—taking the everyday and twisting it with liveliness and precision into something else entirely. Presented inside a castle on the outskirts of Paris (Château de Vincennes, a former fortress and royal residence on the eastern edge of Paris) the venue may have just been the most creative of the Paris shows so far.
But back to subverting the everyday—take Loewe's simple column shift dresses: Anderson planted trompe l'oeil prints on white backgrounds with starkness and severity. The result? Pieces that looked like paper dolls come to life. Another key focus was the classic button-down. Here, the designer reimagined it, rendering it in leather with crinkly, paper-like effects. The ubiquitous tote bag everyone carries for work was repositioned as massive, hulking bags that almost touched the floor as the models carried them.
"I was looking at realities where in the room it's one thing and online you look at it and it's another thing," Anderson said of the show. "How do you get newness for when you go into stores six months down the line, especially when we consume so much so quickly?"
Normcore and a lack of ornamentation may be back in style, but Anderson is focused on oversize everything and the fact that surrealism isn't dead, despite other design houses moving on from the aesthetic. Here, clothing became jewelry and bags became clothing—and vice versa. (For instance, the backs of some of the button downs were elegantly pinned and draped with fine chain links.)
Continuing the theme runways with art installations at Paris Fashion Week, Loewe's stark white catwalk was covered with cubes of confetti designed by artist Lara Favaretto. That concept follows Anderson's knack for experimenting with hard geometric shapes that force the eye to travel—but draping and softness still seemed to be at the heart of his collection. There were sculpted feather jackets and matching bottoms, birdlike and about to take flight; dresses that mirrored silk draped bed sheets worn as shawls; little dumpling-like bags; strapless dresses with metal clasps, and other pajama-esque shirts and dresses so long they dragged on the ground. The exception to the formula of softer, quieter shapes this season were a few boxy leather jackets and pleated skirts in bold brights like mint and salmon.
Loewe is by default a leather house, and that was driven home with slouchy, grunge, flat boots. Naomi Campbell, Chloë Sevigny, and Emily Ratajkowski sat front row taking it all in—but there were a few shining stars on the runway that turned heads even more than the celeb crowd: glittery coats and bow-bedecked heels, structured dresses with angular points, and fuzzy hobo bags. They all had that buzz-worthy feel so typical of an Anderson collection.