Luar Ushers In a New Era for New York Fashion Week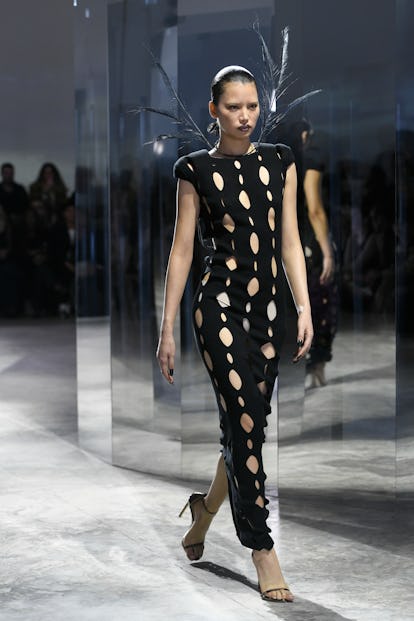 Photo by Fernanda Calfat/Getty Images
Designer Raul Lopez always draws a chaotic crowd. For the past few seasons, the designer behind Luar has been the underdog label on everyone's minds—from his Ana "It" bags to his subculture-fueled aesthetics, which are always inspired by his own Latinx community. The next, not-so-obvious stop, now that he's gaining the widespread recognition he deserves? Closing the fall 2023 New York Fashion Week season—rather than, say, Tom Ford, Marc Jacobs or another more mainstream household name for the first time in what felt like years.
Even if you don't immediately know his name, Lopez has been in the industry for over a decade, having started out as one of the cofounders of Hood by Air. His if-you-know-you-know label Luar was born in 2011; it temporarily went on hiatus in 2014 and again in 2019—but he returned to NYFW just in time for spring 2022. The brand's rise since then has been, in a word, astronomical. Doja Cat, Dua Lipa, Rihanna, and many more are all fans, and Lopez received a CFDA Accessories Designer of the Year award in November 2022. In turn, a massive crowd formed outside Faurschou New York in Brooklyn on Feburary 15 for the designer's fall 2023 show. And they came prepared—not just to celebrate Luar and the ceremonious end of New York Fashion Week, but also to hype up the designer to the fullest extent with cheers, claps, snaps, slaps, and hollers. It was all typical of any other Luar show, except for the fact that it felt intrinsically more joyous.
So what does it look like when a rising brand closes fashion week, as opposed to a major house? For one, the venue is packed to the absolute brim and the guest list is a lot more interesting (and the guests themselves are a lot more vocal about each and every look coming down the runway). The first model emerged in a gown made of structured suiting material with sky-high shoulders, an oversized lapel, mesh opera gloves, and oversized sunglasses—making it clear that Lopez is shaping a new legacy fashion house that plays by its own rules. For this collection, Lopez doubled down on some of the streetwear-inspired, massive proportions for which fans know the brand best, then flipped them into sophisticated silhouettes that referenced the intricate, generational dynasties of deeply personal style.
Lopez was specifically exploring "calle pero elegante" or "street but elegant" in Spanish. "He remembers being a kid in Williamsburg, sitting on a park bench, watching—from a conservative distance—as the laws of the land were laid down; not by traditional authority figures, but those mafiosas who ran the neighborhood," the show notes stated. "Lopez was particularly taken by the women in these situations. They commanded a different kind of respect than men, from men. The power they held was less about brute force and more so a caustic display of the astuteness they had cultivated, moving fluidly, sultrily, from one situation to the next, carving out distinction with their two-inch, french-tipped nails."
Some of the same ideas seen in Luar's previous collection shown at The Shed at Hudson Yards last season were expanded on and refined—and looked a lot more expensive, too. Take, for instance, the pinstripe cocoon-like suit, or the flounces of feathers that jutted out from oval cutout knit dresses. The hooded capes integrated into checkered gowns, and swingy fur coats lent a sort of ostentatiousness that previously hadn't been seen within a Luar collection. Still, the high-shouldered moto jackets with their logo belts (and feathered plumes) along with the skirts and jackets that were constrained here and there with fabric belts felt like they definitely delivered that signature Luar newness. There may have been a few cues that felt a little too referential, but overall, the collection was a real testament to the designer's dedicated aesthetic and increasingly cultivated craft.
There's undoubtedly a vibe shift happening at New York Fashion Week—and planting one of the most talked-about designers as the grand finale of fashion's biggest biannual event only cemented that feeling. Sure, NYFW has always been about the underdog (and new talent) but Luar also represents community culture—which the New York scene so desperately needs at the moment.