Meet the 22 Brands Vying for the 2023 LVMH Prize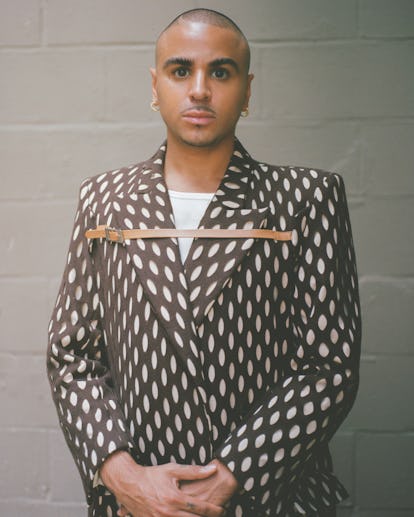 Photograph by Elvin Tavarez, courtesy of LUAR
The previous winners of the LVMH Prize, awarded to exciting young labels, proves its prestige. Nensi Dojaka took home the honor in 2021. Marine Serre got it in 2017. Grace Wales Bonner and Thebe Maggu both have one. Even looking at the alumni in general—those who were chosen as semifinalists and later finalists make up a list of names representing some of the biggest new brands to emerge over the last decade—Jacquemus, Peter Do, Beckett Fogg and Piotrek Pansczczyk of Area. Just by getting recognized by the jury—which is a collection of industry VIPs including designers, editors, models, and CEOs—is enough to give a brand the boost it needs to become a household name.
It is once again time for LVMH to name another winner, but first there are the semifinalists—22 brands that will present their collections and vision in Paris on March 2nd and March 3rd. The showcase will also take place digitally, allowing the public, along with the International Committee of Experts of the LVMH Prize, to vote online for the eight finalists.
"The 22 semifinalists are all driven by a very innovative vision and also show great creative maturity," said Delphine Arnault, CEO of Christian Dior in a statement. "Many of them place the culture and craftsmanship of their native country at the heart of their design approach." This year, the semifinalists hail from 15 different countries, including Brazil and Jamaica, which are represented in the Prize for the first time. Only one—Raul Lopez of Luar—is from the United States.
In the end, one winner will be chosen to receive a 300,000 euro endowment and a year-long mentorship by a dedicated LVMH team. The winner of the Karl Lagerfeld Prize, which will also be chosen from the pool of finalists, will receive 150,000 euro and mentoring as well. And since the public has a say, it's important you get to know the 22 brands chosen from 2,400 applicants, vying for the LVMH Prize this year.
Aaron Esh, a contemporary menswear brand inspired by womenswear and haute couture by Aaron Esh of the United Kingdom.
Anne Isabella, a womenswear brand inspired by the '60s and '70s by Anne Isabella Rasmussen of France.
Bettter, an womenswear brand using dead stock garments to create clothing based on customers' body metrics by Julie Pelipas of Ukraine.
Bloke, a genderless brand merging contemporary design with crafts with a focus on textiles and knitwear by Faith Oluwajimi of Nigeria.
Burc Akyol, a genderless brand mixing Turkish heritage and haute couture by Burc Akyol of France.
Charlie Constantinou, a menswear and genderless brand designing functional wear with a greater sense of imagination by Charlie Constantinou of the United Kingdom.
Diotima, a womenswear brand at the intersection of the historical, political, and the aesthetic by Rachel Scott of Jamaica.
Joao Maraschin, a womenswear and menswear brand celebrating handcrafts like embroidery, crochet, and macramé by Joao Maraschin of Brazil.
Johanna Parv, a womenswear and accessories brand for professional women by Johanna Parv of Estonia.
Juntae Kim, a genderless brand reinterpreting historical women's costumes as contemporary menswear to promote integration by Juntae Kim of South Korea.
Karu Research, a menswear brand recontextualizing Indian traditions for a global audience by Kartik Kumra of India.
Kusikohc, a genderless brand rooted in messages of community, identity, and reinvention by Cho Giseok of South Korea.
Louis Shengtao Chen, a womenswear brand challenging the traditional notions of glamour by Louis Shengtao Chen of China.
Luar, a womenswear, menswear, and genderless brand inspired by the fluidity of the downtown New York Scene by Raul Lopez of the United States.
Magliano, a menswear and genderless brand imbuing menswear fundamentals with a dark, off-beat, and disheveled attitude by Luca Magliano of Italy.
Marrknull, a genderless brand that integrates past and contemporary Chinese culture by Wei Wang and Tian Shi of China.
Namesake, a menswear and genderless brand embracing and reconciling internal differences resulting from the generation gap by Michael, Richard, and Steve Hsieh of Taiwan.
Paolina Russo, a womenswear brand defined by considered craftsmanship, sustainability, and innovation in textile development by Paolina Russo of Canada and Lucile Guilmard of France.
Quira, a womenswear brand capturing the designer's ever-present sentiment into a tangible form by Veronica Leoni of Italy.
Setchu, a genderless brand showcasing serene, elegant designs for an active lifestyle by Satoshi Kuwata of Japan.
Stinarand, a genderless brand exploring techniques and material combinations of the most innovative nature by Stina Randestad of Sweden.
Wataru Tominaga, a genderless brand with a focus on experimental prints and textiles by Wataru Tominaga of Japan.