Mary Quant, Queen of British Mod Fashion, Dies at 93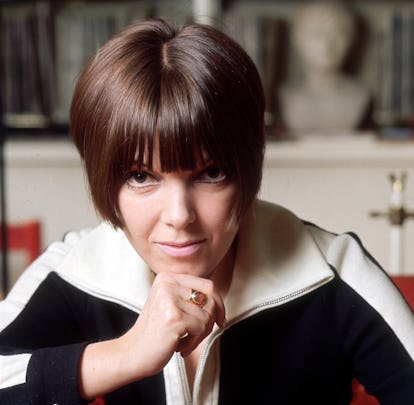 Keystone/Hulton Archive/Getty Images
Dame Mary Quant has passed away at the age of 93 on Thursday, April 13th, in her home in Surrey, England. The news was confirmed by her family, who told the Press Association of Britain the designer died "peacefully." Quant will be remembered for her popularization of the miniskirt (there is some debate as to whether or not she invented the style) and her help in ushering in a new style of dressing in the 1960's, which would help put London on the fashion map.
Barbara Mary Quant was born on February 11, 1930, in Blackheath, London to John and Mildred Quant, both Welsh teachers who came from mining families. Mary had a desire to study fashion from a young age, but her parents wanted her to be a teacher. As a compromise, Quant studied art education and illustration at Goldsmiths College (now known as Goldsmiths, University of London), where she received a scholarship. It was at Goldsmiths that Quant met the aristocratic Alexander Plunket Greene, a fellow student and fashion-focused mind who, according to the New York Times, "wore his mother's gold shantung silk pajamas to class on the rare occasions he attended."
After school, Quant went to work for a high-end Mayfair milliner. In 1955, Quant quit her job so she and Plunket Greene, along with lawyer Archie McNair, could open Bazaar, a boutique at 138a King's Road in Chelsea. Quant, who was already known for her unique style at the time, stocked the boutique with the pieces she liked to wear and often couldn't find elsewhere. Bazaar, with its coffee shop vibe, became an instant hit and Quant quickly became a well-known name of the growing Chelsea scene with her miniskirts and bob hairstyle, created by Vidal Sasoon.
The style championed by Quant was in direct contrast to the look of the generation that came before. In a post-war London, gone were the days of the matching sets and nipped waists popularized by Christian Dior. Quant said she often responded to the demand of her customers when it came to designing pieces for Bazaar, and while it has been argued that André Courrèges was the inventor of the miniskirt, Quant would beg to differ.
"It was the girls on the King's Road who invented the mini," Quant said according to the 2009 book, The Great Fashion Designers. "I was making easy, youthful, simple clothes in which you could move, in which you could run and jump and we would make them the length the customer wanted. I wore them very short and the customers would say, 'Shorter, shorter.'"
By 1957, Plunket Greene and Quant were married and Quant's popularity as a designer was growing exponentially. Her reach spread beyond London as she worked with manufacturers to increase production. Soon, there were Mary Quant makeup, accessories, and houseware lines as brand sales reached $20 million.
Along with the mini skirt, Quant is credited with popularizing the hot pants, as well as patterned and colorful tights. She was also known for her classic daisy logo, and looks that have become synonymous with the mod movement.
Quant continued to run her brand until 2000, when she was bought out of Mary Quant Ltd by British-based Japanese businessman James Matsumiya. In 2015, she was appointed a Dame Commander of the Order of the British Empire for her service to British fashion and in 2019, the Victoria & Albert Museum in London put on a retrospective of Quant's work.
"We were at the beginning of a tremendous renaissance in fashion," Quant wrote in her 1966 autobiography. "It was not happening because of us. It was simply that, as things turned out, we were a part of it." The designer continued, "Good designers—like clever newspapermen—know that to have any influence they must keep in step with public needs and that intangible 'something in the air.' I just happened to start when 'that something in the air' was coming to a boil."