Michelle Yeoh Embodies Sculptural Elegance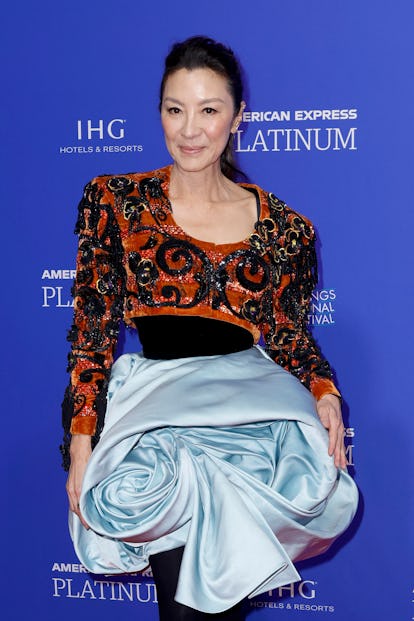 Frazer Harrison/Getty Images for Palm Springs International Film Society
Michelle Yeoh picked up her first award of the year on Thursday night at the Palm Springs International Film Festival. The actress wore a unique look to the event, where she was honored with the International Star Award for her performance in Everything Everywhere All At Once.
Yeoh arrived to the red carpet in a unique look courtesy of Daniel Roseberry, from the designer's fall 2022 couture collection for Schiaparelli. The ensemble featured an orange velvet crop top with structured shoulders, embroidered with an intricate design created from sequins and beads. A center panel of black then transitioned into a skirt of blue satin, gathered into swirls that wrapped around the actress' waist. Yeoh finished off the look with opaque black tights and platform heels, seemingly ditching all jewelry aside from a ring or two to allow the craftsmanship of the piece to shine.
While at the event, Yeoh reconnected with her costar from the film, Stephanie Hsu, who also wore couture in the form of Valentino, but embraced a very different, romantic aesthetic. Pulling from Pierpaolo Piccioli's fall/winter 2022 couture collection, the actress opted for a light pink dress comprised of ruffled tiers, with a red satin bow tied around her waist to give the piece some shape.
The festival comes just a few days before the Golden Globe Awards where Yeoh is nominated for the first time. Since the Globes splits their awards into two categories of comedy/musical and drama, it is predicted that Yeoh will take home to prize for Best Actress in a Musical or Comedy on Tuesday night. From there, it's almost guaranteed the actress will receive her first Oscar nomination, and though the competition is steep—with Cate Blanchett, Michelle Williams, Viola Davis, and more in the running—she's considered one of the front runners. If she does pull off that win, she would be the first Asian woman to take home the award.