Naomie Harris Went Classic with a Twist For Givenchy's Fall 2022 Show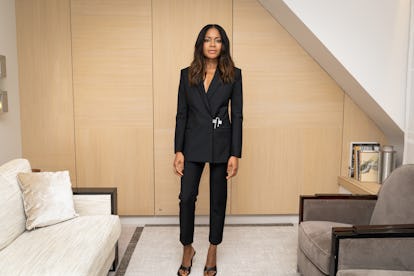 Naomie Harris. Photograph by Elodie Chapuis; Styled by Alexandra Cronan; Makeup by Mary Greenwall; Hair by Peter Lux.
For her look at Givenchy's fall 2022 Paris Fashion Week show, actress Naomie Harris wanted to take a step in a different direction. Not usually one to wear all black on a red carpet, the Swan Song actress turned to the dark side, and opted for an elegant black suit instead. "I absolutely love vibrant color," she told W after attending the goth spectacle helmed by Matthew M. Williams. "But the superbly tailored and simple, clean lines of the Givenchy black suit spoke to me, and I decided with my stylist Alexandra Cronan that it was the perfect fit for Matthew's show. The suit is totally representative of my style: classic with a modern slant."
As for accessories, the actress also wanted to make sure anything she wore would allow for the suit and its elegant tailoring to be the star of the show. "I think adding anything would in fact have detracted from the beauty and elegance of the suit," she said. She also allowed herself to fangirl a little bit, and told the house's creative director all about her love for his craft. "It's amazing how a suit can make you feel so damn good, but when it's crafted by a genius like Matthew M. Williams, it totally can!" Below, go inside Harris's pared down glam process at Paris Fashion Week before she attended Givenchy's rather emo Fall 2022 spectacle.