Natasha Lyonne's Suit Is Practically Melting Off Of Her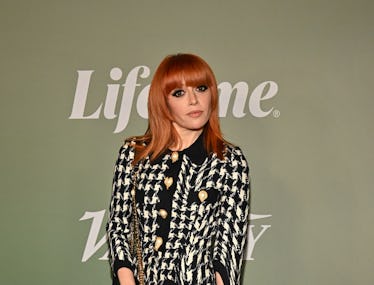 Slaven Vlasic/FilmMagic/Getty Images
At Variety's annual Power of Women event, Natasha Lyonne stood out with a twist on the conventional suit-style dress. The black and white checkered Moschino piece swirled along the asymmetrical hem and featured looping sleeve cuffs, a black collar, and large gold buttons in mismatching shapes. She carried a purse in the same pattern by the designer on a gold chain and wore a pair of black pumps.
Lyonne's trademark ginger hair was straightened with a fresh fringe for the event and she was flaunting a bright red manicure, honoring the '80s career woman vibe of the surrealist ensemble.
She also took a moment to celebrate her friendship with Poker Face co-star Dascha Polanco, who she originally worked with on the set of Orange Is the New Black.
Lyonne was honored at the event alongside Judy Blume, Kelly Ripa, Rosie Perez and Michaela Jaé Rodriguez, and she used the opportunity to raise funds for the Lower East Side Girls Club community center.
"As a young girl in New York City, I did not always have a place to go or other girls to learn from. That's why it's especially moving to be here celebrating the Lower East Side Girls Club," Lyonne said of the longstanding organization. "Not just because they are my friends and neighbors, but because there is no other organization like it on the planet. It's so out of this world that you can literally go there and hang out on Mars or fly through the Milky Way at their planetarium! A planetarium, can you imagine… on 8th Street and Avenue D!"
She added, "Through free, year-round, innovative programming, they connect young people with their passions, celebrate their curiosity and help channel their creative energy. You've heard the phrase it takes a village to raise a child. But I would raise you one and say it takes a Girls Club to change the world."
In her newest show Poker Face, Lyonne plays Charlie Cale, an investigator who explores a mystery every week on the Rian Johnson series. That role follows her Netflix series Russian Doll, a story about two people in the East Village experiencing death over and over again until they figure out how to help each other through life. In her Variety cover story, Lyonne talked about how getting older actually brought these roles into her life.
"People have suddenly become receptive to my eccentricity and idiosyncrasy," she said. "It's a real curiosity that when I turned 40, people were like, 'We're down for this.'"