The Can't-Miss New Designers of New York Fashion Week Fall 2023
From the frog-loving former director of Kendall + Kylie to a designer reimagining fashion as actual documentary.
---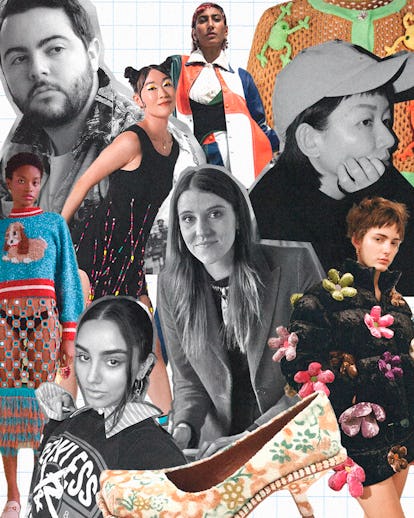 Collage by Ashley Peña
The fall 2023 season of New York Fashion Week begins this Friday, February 10, bringing with it Palomo Spain's return to the city, a new grand finale courtesy of Luar—and, as always, a roster of new faces getting their first brushes with the CFDA. From the frog-loving former director of Kendall + Kylie to a designer making the case for fashion as documentary, here are four exciting newcomers not to miss.
Colin LoCascio
Most designers dream of having their collections gain enough exposure to attract celebrity attention. But for Colin LoCascio, the reverse occurred: he spent years making custom faux-fur coats and sequined tops for clients like Bella Hadid and Cardi B (while working for Marc Jacobs on the side) before getting the chance to actually sit down and create a collection in full. And by the time he finally did, in the fall of 2021, he'd learned his business skills from the best: a couple of Kardashian-Jenners. "Let me tell you, they keep it tight," the 29-year-old says with a laugh while recalling his stint as director of Kendall + Kylie, where he was charged with elevating the brand's black label offerings. (And according to LoCascio, they also really do weigh in on each and every look.)
Designer Colin LoCasio dresses a model while shooting his spring 2023 look book.

Photograph by Tomoaki Sato
A look from Colin LoCasio spring 2023.

Photograph by Sofia Alvarez
A true mama's (and grandma's) boy, LoCascio is forever inspired by the women in his family and the women who live in his home borough of Queens—in real life, and especially on screen: LoCascio has cited Fran Drescher's eccentrically dressed The Nanny character as inspiration time and time again. Since the beginning, he's also mined his childhood—most notably in the form of a crochet cardigan covered in mini amphibians, which serve as an homage to his favorite childhood stuffed animal, Freddy the Frog. Alongside printed mesh dresses and form-fitting mesh tops printed with LoCascio's own illustrations, that motif is one of the staples he reworks again and again—and rest assured, the froggy editions in particular have never failed to sell out. This season, his childhood memories led him to new firefly and carousel themes that will be joined by more embellishments than ever, courtesy of the same manufacturer that works with Alexander McQueen. For all his youth-centric inspiration, from the look of this more elevated collection, Colin LoCascio is growing up—sort of: "There's a polish and sophistication—but it's definitely still rooted in this disoriented absurdness that I love—and our girl goes for."
Melke
A look from Melke spring 2023.

Photograph by Chad Moon
A look from Melke spring 2023.

Photograph by Chad Moon
While studying fashion at New York's Marist College, Emma Gage took a trip to The Met, where she realized the person renewing their membership in line in front of her looked familiar. It was Betsey Johnson—and she was surprisingly eager to invite Gage on board to her New York Fashion Week team. The 27-year-old realized the best way to carry out her goal of starting her own brand was to work backwards in terms of company scale—a plan that especially succeeded when she eventually joined a staff of just two at the then eight-month-old (and now defunct) brand Nina Tiari. By the time her Covid stimulus check came through, Gage felt prepared enough to put it towards launching a label—and she knew exactly what to call it. Her friends had long teased her Midwestern pronunciation of the word "milk," so what better name than "Melke" for a brand that celebrates individuality?
Like Johnson, Gage places outsized emphasis on fun—think t-shirts with fried egg motifs on the breasts and, in the case of her latest collection, tops with six sleeves inspired by the insects in James and the Giant Peach. Such whimsical touches bely a seriousness at the brand's core: Gage is passionate about fair working conditions and combatting human trafficking, which is also the reason why the brand is so strikingly sustainable. "I didn't go into it saying, I'm going to make everything out of natural materials and using chemical-free dyes," Gage says. "I started thinking about materials, realizing that synthetics aren't good for people, and asking, what does that mean for those who are in a factory working with these chemicals every single day?" Since launching in 2020, Gage has built up a global network of manufacturers and suppliers, such as the India-based Knit One Change One, which she's confident have good ethics—and do their very best to reduce waste. In fact, so far, the designer hasn't been able to act on her longtime goal of sending her scraps to a company that would respin them into new materials. "Ideally I would love to be able to do that, but we're not producing enough waste to have it be spun into anything useful," Gage says, then pauses. "I mean, maybe it's not a bad problem."
Ayama Studio
A look from Ayama Studio Collection 1.

Photograph by Eva Losada
A look from Ayama Studio Collection 1.

Photograph by Eva Losada
On January 9, just about a month shy of NYFW's February 10 kickoff date, Maya J of Ayama Studio received some unexpected news: The application to show on the CFDA's official calendar that she'd submitted on a whim back in November had gotten some rather last-minute approval. Perhaps even more striking than the late notice was the fact that, at that point, J had fully realized only one collection to date. The brand's visual DNA—currently encapsulated by a highly editorialized look book shot at the futuristic Berlin Philharmonic—is already so strong because the 29-year-old is building it on the thing she knows best: herself. (@ayama_studio's Instagram bio tellingly reads "Maya is Ayama" and "making clothes I want to make.") So while J had produced just a single garment for her upcoming collection upon receiving the NYFW news, fortunately, she had already been getting introspective: Her continued exploration of the intersection of her masculine and feminine sides had prompted her to take a further look into the latter—in other words, to enter the label's "divine feminine era." For example: introducing her first-ever eveningwear—as seen in pieces such as a low-cut, spandex-y gown—and branching out from the paneled outerwear that featured prominently in her last collection with looks that bare some skin.
While this upcoming collection will be just her second in the space of a year, J hasn't been idle; for example, 2022 saw her dress Kehlani for her Blue Water Road tour. She considers the collection—again, entirely produced in New York's Garment District—that she'll soon present just the beginning of her second season; more time will allow for additional looks (particularly in the form of knitwear), as well as her first film. Asked when she plans to produce the next stage of the label she describes as seasonless, J laughs: "I feel like it's cool to be, like, the Frank Ocean of fashion—he makes an album every few years and people are like Wow, that was so fucking good, and remember it and want more of it until he makes another album." And while she wants to keep things intuitive, with any luck, she'll stick with her plan to do at least two collections per year.
Zimo
Before I can ask Zimo Yan why she bills her eponymous label Zimo as a "documentary," she shares her screen on Zoom and implicitly makes it clear by walking me through slide after slide of research and films and newspapers she made herself. For Yan, each season presents an opportunity to encapsulate and preserve a disappearing Asian subculture—manifested in both the aforementioned media and her label's actual accessories and clothes. In addition to deadstock fabric often "obtained from Asian elders," Yan's go-to materials are pajamas, bed sheets, and towels purchased at Shanghai Towel and Zhenfang (in her words, "1990s pajamas/underwear for old generations") shops—the kinds she both wore growing up in China and the ones she's rapidly seeing go out of existence. In fact, Zimo's most prominent supplier last season has already ceased its operations in Shanghai since.
This time around, Yan's focus is on the hoarding habits of her parents' generation—one that she and Wentao Huang, her co-mastermind of the brand's non-design side' characterize as valuing newness over secondhand and vintage, quite unlike themselves and their peers. Inspiration came courtesy of a visit to Seoul's positively overstocked Dongmyo Flea Market; Zimo's upcoming presentation will, fittingly, take place in a basement-level venue. At some point, they'll hopefully also gain some teaching: In a back room, Daxia, the same grandma who taught her fellow models how to play Mahjong last season, is set to offer a lesson in hand crochet. "The friend who met her in Chinatown and introduced her said, 'You always use deadstock grandma pajamas, so you have to always have a grandma be your model,'" Yan says. "And it really does fit the concept."