At Jacquemus, a Clean Slate in Style
Plus more of the best looks to hit the Paris Runways.
---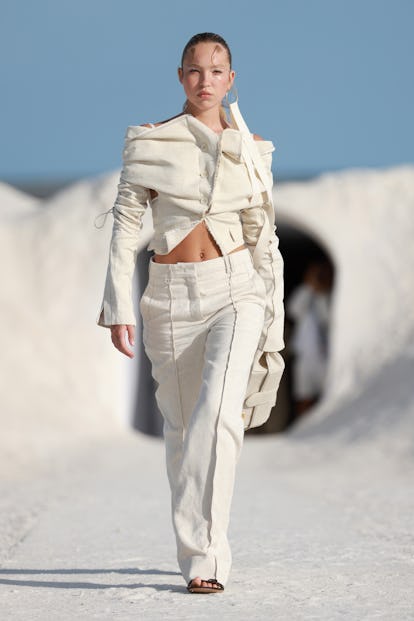 Titled 'Le Papier' Jacquemus's latest collection was predominantly white and cream and presented in the salt flats of Camargue, France. Arnold Jerocki/Getty Images
Is New York Fashion Week no longer the powerhouse it used to be? While we're not sure we would go that far, it's certainly becoming proving ground for emerging designers rather than an outpost for all the best American fashion as it once was—especially in the wake of the Covid-19 pandemic. The European shows are now the focal point for major fashion houses that can afford to put on grandiose spectacles, enacting a shift not seen since the 1970s (but one that has been brewing for more than a few years). Paris Fashion Week has always been the penultimate, and this season is no different. Established stars like Kim Kardashian, Serena Williams, and Rihanna have opted to skip out on NYFW in exchange for a front row seat (and, in Williams's case, a walk down the runway), at Dior, Off-White, and more. However, Paris Fashion Week didn't end in March as it usually does. Brands like Celine and Zadig & Voltaire presented their designs off-schedule in May and June respectively—a move that only hastens the excitement for the approaching change of seasons. Keep up with this running list of our favorite looks from each of the maisons.
This article was originally published on