Phoebe Bridgers Turns Lyrics Into Delicate Jewelry
Engraved moonstone and flying saucer charms round out the musician's collaboration with the Brooklyn-based jeweler Catbird.
---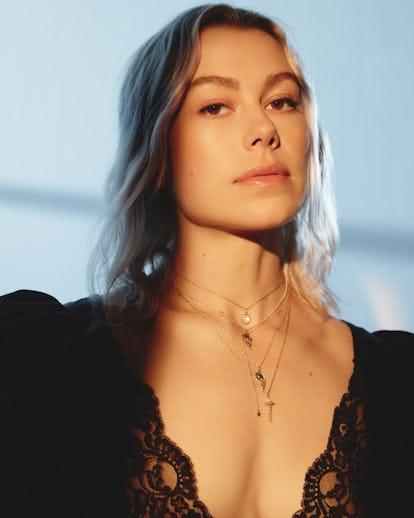 Phoebe Bridgers wears the charms she designed with Catbird. Courtesy of Catbird.
"I remember Co-Star saying friendship is the most romantic love," says Phoebe Bridgers, referring to the astrology app known for its blunt, pithy approach to describing what the planets have in store for us. "And I feel like Valentine's Day is always way more about my platonic or borderline-platonic friendships instead of my romantic ones."
Just in time for the holiday, the musician is releasing two new charms as part of her ongoing collaboration with Catbird, the Brooklyn-based jeweler that made wearing piles of tiny gold rings, delicate chains, and minuscule hoop earrings a thing. Available today on the Catbird website and in Bridgers's merch store, the new collection features motifs and lyrics that will be familiar to any Bridgers superfan, rendered in sterling silver and 14-karat yellow gold. The first drop, featuring a best friend charm with a skull design, sold out within 24 hours—so if you know someone who would cherish a petite, pearl-encrusted UFO, act quickly.
"I love pretty much anything to do with space, whether it's real or not," says Bridgers. "I like weird theories about aliens, I like astronomy and astrology—anything with a space aesthetic, whether it's the Mars Rover or stars on a little kid's ceiling." The flying saucer charm, with its pearl top and chain tassel that evokes a beam of light, is as sweet as it is mysterious. It's also a nod to how Bridgers often signs autographs, accenting her signature with a quick little spaceship sketch.
The other charm in the collection, a moonstone cabochon with "I'd give you the moon," a lyric from "Moon Song," engraved in Bridgers's handwriting on the back, offers a New Age twist on the classic solitaire. I ask Bridgers if the "energetic" properties of the stone—moonstone is considered by those who are into crystals as one with a powerful creative and intuitive force—were important to her. "I don't know a lot about crystals, but I'm a passive fan of crystals, and I have a lot of stuff that friends have given me, including a lot of moonstone," she says. "I've been fascinated by it ever since I was a kid. It's cool and iridescent and I like how much it changes with the light."
In terms of how she envisions the pieces being shared come February 14th, she refers back to Co–Star's guidance: "I love breaking down what we think of when we think of giving somebody jewelry," Bridgers says. "I hope people give the pieces to their friends, and they can have a precious, earnest exchange."