All The Details of Rihanna's Scarlet Red Super Bowl Outfit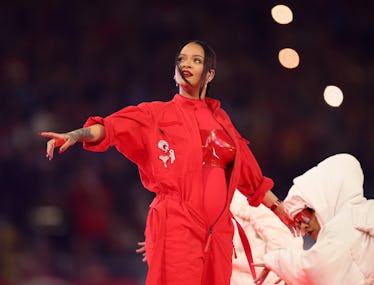 Ezra Shaw/Getty Images
Rihanna's Super Bowl half time performance was red hot. Seriously. The singer floated above State Farm Stadium—singing live for the first time in five years—in an all red look contrasted by the white puffer clad dancers that surrounded her throughout the performance.
Many debated who Rihanna would tap to dress for her for 2023 Super Bowl halftime show. Some thought she would use the moment to promote her own brand and show up in Savage x Fenty lingerie. While that didn't come to fruition, the singer did sneak in some self promotion when she touched up her makeup with the help of a Fenty Beauty compact between tracks. When it came to the full look, though, Rihanna surprised us all when she appeared in a bright red Loewe jumpsuit, courtesy of Jonathan Anderson. The outfit, inspired by look 50 from the brand's spring 2022 ready-to-wear collection, featured a leather breastplate placed on top of a form-fitting, silk jersey catsuit (all the better to show of her pregnant belly). On top, a cotton canvas flight suit—decorated with diamond brooches from Joseph Saidian & Sons—covered up the singer, while matching red MM6 Maison Margiela x Salomon Cross Low sneakers, ears filled with Messika jewels, and a red, diamond-covered Jacob & Co watch completed the look.
"I'm so excited to have been part of this unforgettable moment," Anderson said in a statement. "Rihanna is an icon, and working with her to bring these stage looks to life feels like a wild, wonderful dream."
While Rihanna didn't go for a big outfit change during the performance, she did top her look with two pieces of outerwear, both courtesy of Pieter Mulier at Alaïa. The first one was a puffer scarf that went over her arms and hung around her back.
When it was time for Rihanna closed out the show with her hit, "Diamonds," she appeared in a red leather maxi puffer jacket with built in gloves, looking as regal as ever as she belted out the track. Many believed the choice was an homage to Andre Leon Talley, who owned a Norma Kamali blanket coat very similar to the piece we saw her in on Sunday night. In fact, before it was confirmed to be custom Alaïa, some thought the singer even snatched the piece from the late editor's Christie's auction. Rihanna and Talley had a close relationship prior to his passing last year, and his Instagram account shared photos of the coat comparison following the performance. Whether Rihanna was referencing Talley or not, the similarities between the coats cannot be denied, nor can Rihanna's talent after a performance like that.