Rina Sawayama Is Bringing Pop Star Style to Hollywood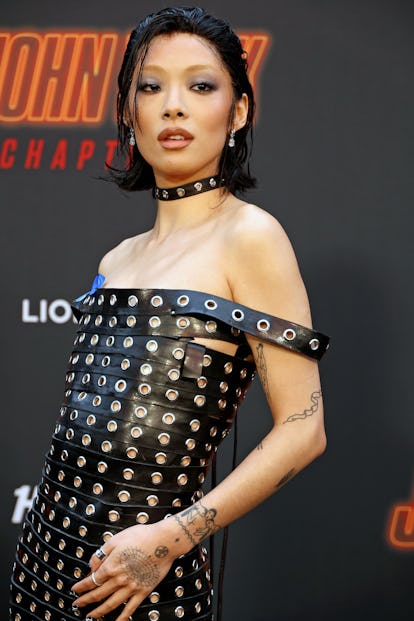 Kayla Oaddams/WireImage/Getty Images
There's a reason why the Grammy Awards always have one of the most interesting red carpets of the year—pop stars just have more fun with fashion. They're more likely to take bigger risks, go against the grain. That's not to say movie stars don't serve looks, but while they often strive to evoke beauty and glamour, artists look to provide a bit of edge, and something different to a red carpet ensemble. That's why Rina Sawayama's style throughout the press tour for John Wick: Chapter 4 has been so exciting to watch, because she's bringing a perspective not usually seen on the red carpets of film premieres.
Sawayama makes her film debut in the Keanu Reeves-led action flick, but the singer is dressing like she's an absolute premiere pro. Most recently, for the movie's LA red carpet, Sawayama wore a look from Luis De Javier's fall 2023 ready-to-wear collection, a dress created from horizontal leather straps decorated with silver grommets pulled across the body to create an off-the-shoulder neckline and striped bodice and skirt. At the bottom of the garment, the straps begin to fall to the floor to form a slit and train of wide leather fringe. It was as if the belt rack at Hot Topic had rearrange itself into a formal gown. Sawayama ditched the leather gloves from the runway, but added a matching leather and silver choker, as well as a pair of black Gianvito Rossi, as she showed off the look and her new choppy hairdo.
The singer kept the leather theme going as the night continued, changing into a new look for the premiere's after party also rendered in the material. This time, though, she dressed in all-yellow, wearing a belted mini skirt with a matching corset top featuring large bows on her arms from Wiederhoeft's fall/winter 2023 show.
But Sawayama's looks on Monday were just the culmination of her successful press tour style. They come after the singer already stepped out in two other show-stopping ensembles days prior. At the premiere in New York last week, for example, Sawayama covered up in a chic, yet quirky Thom Browne fall 2023 dress featuring a low-rise column skirt and a cropped top with structured shoulders in a red and blue tartan. A paisley under-layer in the same hues added a mock neck as well as an interesting silhouette to the overall look.
Her most conventional ensemble of the tour came in the form of the Ashi Studios spring/summer 2023 couture dress the singer wore to the UK premiere of the film earlier this month. But still, the crystal embellishments and sculpted silhouette had the effect of turning Sawayama into a sort of other-wordly princess, something achieved in many of her recent looks, in fact.
Sawayama has been working with stylists Jaren Ellner and Jordan Kelsey throughout the press tour, as she has dipped her toe into the world of movie premiere red carpets. The result has been a refreshing take on Hollywood dressing, and we can't help but hope that Sawayama continues with this whole acting thing, because we're going to need to see her at more premieres moving forward.