Grace Mirabella, Longtime Editor of Vogue, Dies at 91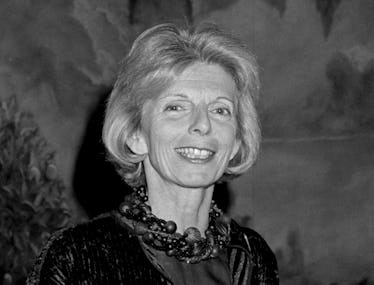 Photo by Ron Galella/Ron Galella Collection via Getty Images
Armed with a degree in economics from Skidmore college and a childhood spent in New Jersey, Grace Mirabella arrived at the Vogue offices in 1952, where she worked as an assistant in the sales department. By the 1960s, she served as associate Editor-in-Chief under the legendary Diana Vreeland before taking over the top job in 1971. Mirabella reigned over Vogue until 1988 when, according to media gossip legend, no one at parent company Condé Nast had bothered to tell her she had been replaced in the job by Anna Wintour. The story goes she found out about it by watching gossip columnist Liz Smith report the news live on television.
Her passing at the age of 91 was confirmed this morning by Vogue.
Mirabella's Vogue is destined to be compared to the two editors who bookended her term, but she had no less impact on the fashion title and the magazine world at large, than either of them. Her editorial sense was defined by both the feminism her mother had raised her with and her practicality. She saw Vogue as a vehicle to communicate and guide a new generation of women entering the workforce directly. Suddenly, clothing worn for the office was just as important as gowns for a charity ball. Features on socialites and muses that defined the Vreeland era were replaced in favor of those on professional women. Mirabella also fought to cover social change and the pro-choice movement.
Early in her reign, Mirabella also made history by featuring Beverly Johnson on the cover of the August 1974 issue, marking the first time a Black woman appeared on the cover of Vogue.
Style-wise, Mirabella favored more clean-cut, liberating clothing (Armani and Saint Laurent were favorites). She also doubled down on the then-radical notion that American Vogue should actually champion American designers. Donna Karan, Ralph Lauren, Calvin Klein, Halston, Geoffrey Beene, and Bill Blass all received early support from Mirabella's Vogue.
Of course, Mirabella's run at Vogue was also marked by something else equally as important to her bosses: business success. Subscriptions were said to have tripled and revenue exploded while she was at the helm, which made it all the more shocking when she was replaced.
Howeer, Mirabella quickly rebounded. By 1989, she had launched her own magazine, Mirabella, whuch unapologetically catered to women in their 30s and 40s and favored practical clothing over designer wares (though Mirabella would only be involved until 1994). In 1995, she published her memoir, In & Out of Vogue, which charted her rise from humble New Jersey to the top of the fashion world, but also was also notable for the bridge burning barbs she threw at Wintour and her former Condé bosses.
Old gossip aside, it's clear that Mirabella's sensibilities continue to flow through the vein of Vogue and many American fashion magazines at large. She reigned over the influential title at a time when women came into power on their own—and spun Vogue from a magazine for women who attended charity luncheons into one for women who took seats at board meetings as well.