Saint Laurent Revives 1980s Power Dressing for a New Generation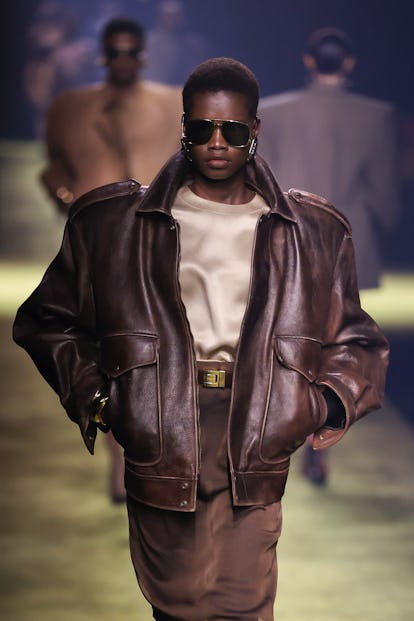 Photo by Peter White/Getty Images
Dramatic chandeliers hung over a raised runway as Anthony Vaccarello delivered his latest collection for Saint Laurent—an ode to the brand's new, daring aesthetic which has drastically changed over the past two seasons. These days, the house favors oversize, directional power dressing that takes up space—while also taking charge.
Vaccarello's new vision of power dressing isn't quiet. Big shouldered jackets plus skinny little skirts and pants, plus defining accessories equals one look that, while still incredibly traditional and classic, somehow evades a certain kind of corporate-ness that might otherwise be present. And it's all centered around the big blazer.
But how does one reinvent the blazer? For Saint Laurent, it has everything to do with size and scale. Vaccarello supersized the humble wardrobe staple and expanded on the shoulders, in classic '80s workwear prints (think: pinstripes and plaid galore). Underneath, low-cut bodysuits and skinny little pencil skirts thrived and made every jacket look all the more grand. Each look was topped off with leather gloves, dark aviator sunglasses, and hoop earrings—the models's hair slicked back.
Last season, Vaccarello made the hooded gown, à la Grace Jones, a collection centerpiece. And for fall 2023 he once again made a strong case for the idea of celebrating a single silhouette, or rather, a dramatic wardrobe hero: the oversize, hulking jacket, whether it's a blazer or leather bomber, paired with the slim skirt. "Put together, these elements create the key silhouette...a timeless look that acquires a novel meaning rendered through the lens of refined details, a luxurious materiality, and a pared-down approach that...transposes a classic Saint Laurent uniform to the present," the show notes read. (Of course, it wouldn't be a Saint Laurent show without some cues and codes from the history of the house. The venue itself took direct influence from the ballroom of the Intercontinental Hotel, where the brand presented its haute couture collections between 1975 and 2001.)
Along with the blazers, Vaccarello emphasized the cape, worn as the main attraction or delicately draped over blazers in sheer options. The show notes described them as, "a flowing layer of cloth, a signature scarf that may merge with the bow of a blouse or extend down like a stole," and they were styled with chunky gilded metal clasps. Pants paired with billowing chiffon tops, bows flowing in the models's wake, were also on full display.
Could it be we're in the midst of an officewear renaissance? With labels like Dior and Saint Laurent presenting sensible midi skirts and big blazers that would look at home in a work and out and about, it might be so. Besides, power dressing with a certain feminine and high fashion edge has been missing from the post-pandemic world. With other labels aiming toward a more minimal aesthetic amid the impending recession, dressing in oversized proportions feels like a stark rebellion—and a throwback to the 1980s. TV shows from that time like Dynasty represented aspirational wealth through massive sleeves and shoulders. Forget about the hemline index, we're now in the shoulder index era!