Salma Hayek Pinault Brings Her Blended Family to Gucci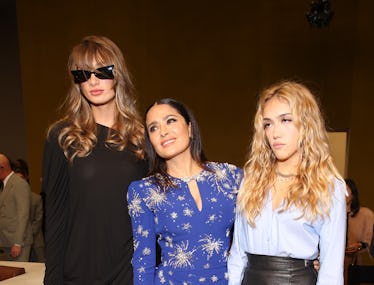 Photo by Daniele Venturelli/Getty Images for Gucci
Succession drama? Not in the house of Hayek Pinault. Actress Salma Hayek Pinault and husband François-Henri Pinault, chairman and CEO of Gucci's parent company, were joined by two of the four children from their blended family in the front row at today's Gucci show in Milan. Mathilde Pinault, François-Henri's 22-year-old daughter from his first marriage, and 15-year-old Valentina Paloma Pinault, completed the united family front.
It was mother who stood out in a heavenly dark blue Gucci dress, bedazzled in gold beading to recall the night's sky. She paired the look with aviator sunglasses and a matching patent silver clutch and heeled sandals—all Gucci, of course.
The daughters kept their color palettes a little more subdued.
Mathilde opted for all black, save her rouge Bamboo 1947 minibag. She paired a black dress, asymetric in just about every way possible, with laced-up knee-high boots. She topped the look off with dramatic black sunglasses. Teenage Valentina was the most business-minded of the evening. She paired a black leather tea length skirt with a blue button-down shirt. Her platform Gucci heels made her appear just a little bit taller than mom.
While the sisters aren't strangers to the front row, this is only the second time they've been photographed attending a show together. They also turned a Balenciaga presentation into a family event last year.
Pinault and Hayek Pinault have been married since 2009, and between them they have four children altogether. Along with Mathilde, he has a son, François, from his first marriage to interior designer Dorothée Lepère. He also has a 16-year-old son, Augustin James Evangelista, with model Linda Evangelista (to whom Hayek Pinault is a supportive step-mother).
We imagine that Hayek Pinault may have offered some parenting tips to her fellow front-rower, A$AP Rocky. (Perhaps you heard he's expecting his second child with partner Rihanna?)
Or maybe she exchanged some with Gucci ambassador Jodie Turner-Smith, who has a daughter with Joshua Jackson.