Sophia Loren's Most Stylish Moments Defined the La Dolce Vita Look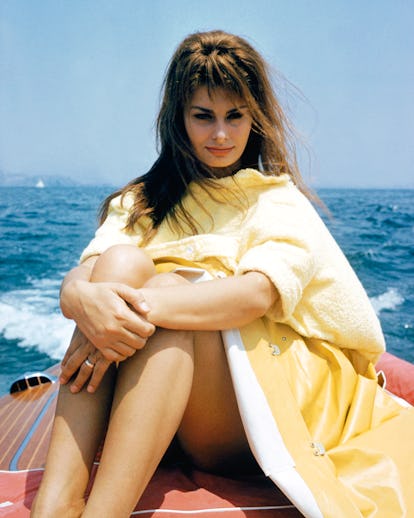 From her first beauty pageant at age 14 in Naples, Italy to today, Sophia Loren has known the power of a good look. After that decisive moment in her early teens (she was crowned "Miss Elegance" at the 1950 Miss Italia pageant), Loren has graced the public with an undeniable sense of style both on and off the red carpet. We've seen her as the sultry Epifania Parerga in The Millionairess, take home Oscar and BAFTA Awards in Two Women, and of course, dazzle in custom couture at the Cannes Film Festival.
Throughout it all, Loren has become synonymous with not only the carefree, La Dolce Vita style but also the classic glamour of '50s and '60s Hollywood. On red carpets, the Italian historically favors statement-making ballgowns trimmed with dozens of crystals and sequins but isn't afraid to opt for more casual styles like a-line dresses and chic suit sets. She's been a muse to some of fashion's most revered names—Cristóbal Balenciaga, Emilio Schuberth, Valentino Garavani, Giorgio Armani—and is one of the most recognizable film stars to have graced the screen. Here, a look back at the Italian screen goddess's best style moments throughout the decades.
This article was originally published on