Zendaya Will Always Be Storm Reid's Style Icon
The 19-year-old actress discusses her latest project, Missing, plus the key advice her Euphoria costar (and onscreen sister) gave her ahead of the 2021 Met Gala.
---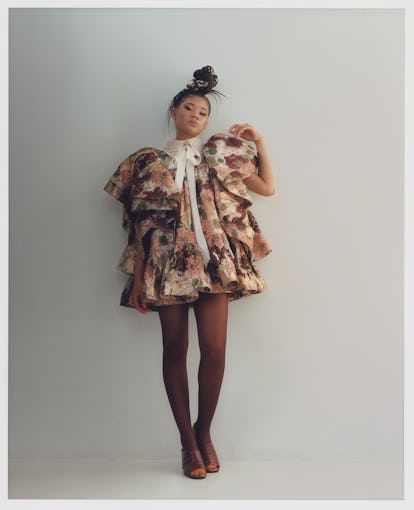 Storm Reid photographed by Justin Von Oldershausen for W magazine in 2020. Styling by Jenna Wojciechowski. Hair by Nai'vasha and makeup by Camille Thompson using CHANEL Makeup. Reid wears Marc Jacobs dress, tights, and shoes.
It's barely one month into the new year, but 19-year-old Storm Reid is already knee-deep in three major projects for 2023. The actress — who told W magazine back in 2020 that she decided to pursue this vocation at the tender age of three — has made her mark on Hollywood for nearly a decade, working with Ava DuVernay on When They See Us and the Oprah Winfrey-starring A Wrinkle in Time. In Euphoria, Reid plays younger sister Gia to Zendaya's Rue. In Missing, coming to theaters January 20, Reid takes on a starring role for the first time since Wrinkle. The sequel to the 2018 film Searching, Missing centers Reid as June Allen, a teenager who tries to find her missing mother (Nia Long) after she disappears during a vacation in Colombia with her new boyfriend. In addition to Missing, Reid appears in the highly anticipated HBO series The Last of Us, as well as The Nun 2. When Reid calls me from Los Angeles on a recent afternoon, she is rushing from one work gig (an interview on The Kelly Clarkson Show) to another (an appearance on Live! With Jimmy Kimmel).
But for the seasoned professional—who is also a student at USC—this run of press is no different from the others. In the eyes of a bystander like myself, however, it feels like a shift is happening when it comes to Reid's fashion sense. From Prada looks on the red carpet to her own personal, athletic-infused street style, the actress is cementing her place within the style canon. "At the end of the day, it's just most important that I, one, feel beautiful; but two, that I'm also comfortable," she said. Below, Reid discusses her potential inclusion in the Marvel Cinematic Universe, the advice Zendaya gave her ahead of the 2021 Met Gala, and why comfort rules her fashion world.
The last time that we talked, you said it was important for you to separate your real life from your character's lives—that's what helps you stay grounded—and that you would never do method acting. Do you still stand by that?
Yeah. I think everybody has their own process as to how they approach their characters and the way they act. But I still don't think I would do method acting. If I need to physically go through a transformation, to work out for a character that eventually becomes an action figure, I would do that. But emotionally, I just don't need to go there.
I read an article in which you said one scene you filmed for Missing lasted until 3:30 in the morning, and that it was a challenging and emotional night.
When you're on set for a long time, whether it's an emotional scene or not, it can get repetitive: your body's tired, you're tired of saying the same thing. But that scene was obviously particularly very challenging because the stakes were high. We had been doing that scene the entire day. It was pretty emotionally taxing, but it was a lot of fun as well. I just wanted to go to sleep [laughs].
You've also said in the past that you would be open to playing Storm in the MCU. Has there been any movement with that?
No, I literally just said that because of my name [laughs], but I would be thankful to be a part of the Marvel Universe in any capacity.
What's your red carpet fashion mantra?
It's always about comfort, but still being fashionable. Fabrics or sequins can be itchy, but for the most part, I make sure that I can move, dance around, and sit comfortably. My stylist Jason Bolden and John [Mumblo] have been working with me this time around—Jason really knows my style and what I like to wear because we've been working together for so many years now. He will bring some of the stuff that he's been thinking about or holding, I'll give him ideas and send him inspiration of what I want to wear. It's very collaborative and we work as a team.
While working on The Nun 2 in France, did you pick up any style cues from fashionable French folks?
I mean, French people are very put together [laughs], so I noticed that, but I myself was in sweats most of the time because I was filming. My everyday look is sweats, because generally speaking, my style is more tomboyish rather than girly. The two intersect in my personal style, but streetwear, oversized hoodies, sweatshirts, t-shirts, menswear—that's what I like to wear.
Let's get into the Style Notes questions. What is your favorite fashion moment from pop culture?
I just love the fact that everything that was a trend back in the day is making a reemergence in fashion, especially Y2K fashion. I love a good butterfly clip, or relaxed, oversized, baggy clothing. And the brown lip liner/lip gloss combo from the '90s has been my signature look nowadays.
Do you have a style icon?
I have a lot of style icons, but I think my top three would have to be Zendaya, obviously; Rihanna; and Beyoncé.
I wanted to ask if you have a friend whose style you admire most, but it sounds like Zendaya might be that person.
Yeah, Zendaya for sure. Her street style and the things that she wears on the carpet, are so effortless and carefree. Obviously she cares about what she's wearing, but she just has a confidence that exudes wherever she is.
Do you two often talk fashion?
Actually, yeah. We often compliment each other about the looks we have worn. She did actually give me advice on my first Met Gala. That's when I was contemplating cutting my hair, and she gave me the confidence to do it. I showed her what I was going to wear and the concept for the bleached pixie cut, and she was like, Heck yeah, it's gonna look great. She gave that final stamp of approval where I was ready to cut all my hair off.
What's the most prized possession in your closet?
Probably my shoes. I'm a big, big sneaker head. I have over 130 pairs of New Balances, because I'm part of the New Balance family. I'm just a big fan of the craftsmanship that goes into making a sneaker.
Is there a particular sneaker you wear all the time?
I wear my New Balance 550s all the time. There's also a shoe I collaborated with Stephan Curry on for International Women's Day—I have a pair of those in my sneaker/glam room that are on display. That was the first time diving into the sneaker-making world and doing a collaboration. So those mean a lot to me.
Tell me more about this sneaker glam room.
It's a sneaker slash glam room. I have a sneaker wall, plus vanities, makeup (all my Maybelline products) and chairs and mirrors to get ready.
What is the best piece of fashion advice you've ever received?
Be comfortable, be you. The clothes don't wear you—you wear the clothes.