Storm Reid, Now 16, Has Defied the Child Star Narrative
The actress discusses working with Elisabeth Moss and Aldis Hodge in The Invisible Man, and her Euphoria character getting her own storyline in season two.
---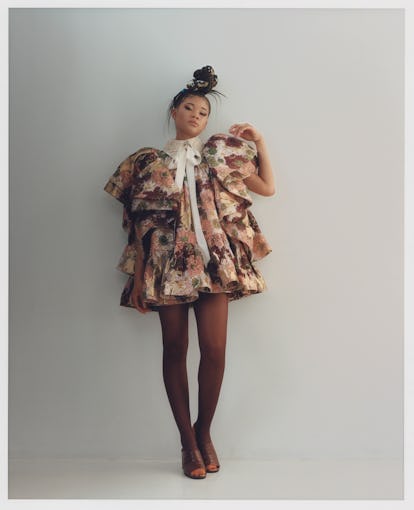 Storm Reid photographed by Justin Von Oldershausen. Styling by Jenna Wojciechowski. Hair by Nai'vasha and makeup by Camille Thompson using CHANEL Makeup. Reid wears Marc Jacobs dress, tights, and shoes.
When Storm Reid was three years old, God whispered in her ear that she would be an actress and a superstar.
Reid swears that this actually happened. It's what got her into acting in the first place.
It was 2006. God told her to go downstairs to the living room of her home in Atlanta, and relay the message to her mother, who was there watching television. The now 16-year-old says she has a photographic memory—so you'll excuse her if the details of what was said that day are a little hazy, but she can remember vividly what the scene looked like. Her mom, Robyn Simpson, was sitting on the family's big brown couch in the middle of the den. Reid interrupted her with a declaration: "I want to be on TV, and I want to be a superstar." Simpson made Reid repeat herself, and the child said it again.
"My mom was like, 'Okay, if you're saying this at 3, then I have to pay attention,' " Reid says on a recent Friday afternoon, sitting in a Long Island City studio with huge windows throwing warm light into the room. Outside, it's a frigid February day, and when someone opens a window just a crack, the rattle of a subway train can be heard. "I was obsessed with movies then, specifically Shrek and Matilda, and I memorized those. But it was never a thing like, 'Oh my gosh, they're on TV, I wanna do that.' He had this plan for me, and it came out at 3."
Since then, Reid has left her mark on Hollywood, working with Ava DuVernay in When They See Us and A Wrinkle in Time, in which she starred alongside Oprah Winfrey. In Euphoria, she is Zendaya-as-Rue's younger sister. Her latest role, in the 2020 adaptation of The Invisible Man out Friday, February 28, sees Reid opposite Elisabeth Moss, who plays Cecilia Kass, a woman involved in an abusive relationship with an ex-husband who, after his death, haunts her; Reid's character, Sydney Lanier; and her father James, played by Aldis Hodge.
Reid is in the middle of an intense round of movie publicity—the night before she came to New York, she was in her hometown of Atlanta. From New York, she'll fly to Los Angeles, where she now resides with her mother and sister, for the NAACP Image Awards. Despite all this movement, and her rising stardom, Reid is remarkably grounded.
Such a rigorous schedule and lifestyle calls to mind child actors who spent their younger years in front of a camera, then got to their later teenage years and went wild. Reid is the complete opposite sort of person. She carries the life ethos and lessons of someone well beyond her age, but with all the hopefulness of youth, and not a trace of being jaded. To be sure, Reid is in the driver's seat: her mother, who goes with her to every work commitment, hangs in the background, while her daughter wheels and deals on her phone, discussing logistics around the NAACP awards. Then, suddenly, she'll break out into playing air guitar jokingly when Avril Lavigne's song "Sk8er Boi" comes on the speakers. She is aware of how easily people can get swallowed up in the fame monster, and actively avoids it.
Reid says she keeps the hardships happening to her characters separate from her real life. ("I'll never try method acting," she says. "People, they go through it with method acting.") The furthest she'll get into a character is by keeping a diary, written as though it's coming from the person whose role she's taking on. She kept one for Meg Murry in A Wrinkle in Time, she says.
"I did journal entries because she was struggling in school and she was being bullied, so I would go from rehearsal to home and act like I was her," Reid recalls. "I was like, 'Veronica [played by Rowan Blanchard] is bullying me, I'm so tired of this, I just want my dad to come back.' But it was really helpful, because even though it seems like a minor detail, it really got me into the groove of being her and feeling her emotions."
Reid is quiet, even a little shy, but maintains the mantra that her voice is important and should be heard. That she should use her gifts to tell underrepresented stories, and encourage other people who might otherwise not feel this way, that their voices also matter.
Such a motto is one that most people don't put into their personal repertoire until much later in life. For Reid, it's what she lives by. Ascribe it to the times in which she's coming up in the game—when young people are encouraged to give their opinions, and when she's seen #MeToo shifting the tides of representation in her field—but Reid maintains it's been this way her whole life. Her loved ones reinforce her opinion that she should live the life of a normal teenager while also pursuing an acting career.
"I spend time with my friends and family to stay grounded," Reid says. "That's how I'm most comfortable. Of course, they're proud of what I'm doing, but they were there before it all started popping off, so to speak. They just love Storm for Storm, and I appreciate that."
Reid says she takes on projects that speak to a larger conversation happening within society; she participates in films that leave audiences thinking, which is what intrigued her about The Invisible Man. This reinterpretation of the 1933 film puts forth an Invisible Man for our times—Moss's ex-husband is an abusive tech bro who gaslights her at every turn, and once he dies, his presence somehow still lingers to haunt her.
Part of Reid's acting process involves observing what other actors are doing in their own roles—and she noticed on the Invisible Man set that Moss was an observer as well.
"Most of my observing happens with the people I'm sharing the screen with, how they maneuver and how they operate," Reid explains. "Elisabeth looks out for her character, but she also looks out for other people's characters, and that's something that I want to take onto my future sets. She wasn't doing it in a way of being bossy, or she thinks you're doing something wrong, she just would make a suggestion or say if something was out of place. If my hair was out of place, she'd let someone know, or even fix it herself, because she just wants it to be as good as possible. And I respected that."
Reid says these actions are ones a director takes, and that she could see Moss directing one day. Along with the production company she's founded with her mom and sister, Reid wants to direct in the future as well.
"I would want to at least try to direct something. And if I don't like it, then I can just go back to producing and acting," she says, adding that she has spoken about this dream with DuVernay. "Miss Ava said when I'm ready, I can always come and shadow her, and she'll give me all the tips and tricks. I will definitely be taking her up on that."
Next, she'll be returning her focus to Euphoria. She's especially looking forward to this upcoming season, because her character, Gia, gets her own storyline.
"She's becoming grown in season two," Reid explains. "I'm thankful that [creator] Sam [Levinson] held her back in a way, in season one, because they had a lot to establish in eight episodes. People really needed to know and fall in love with Rue and Jules, but he didn't shy away from depicting people who are struggling with addiction, how that affects their family. But now, as Gia's growing up and becoming her own person, and she has her own feelings about things, of course she's gonna make decisions that could be bad, or could be good." Also on her plate: a show she created, executive produces, and stars in that her production company plans to film in Atlanta.
It's difficult to imagine that, somewhere within all of this, she'll find time to be, as she puts it, "a normal teenager." But she says that she and her mom are planning to come back to New York in the summer solely for pleasure. She'll get to do what she genuinely enjoys doing just for fun: going to the movies and eating.
"I'm a big foodie, so I love to eat," she says, listing Bob White Counter and Café Habana as being on her hit list. "You could call me at 12:30 a.m., like, 'Let's go eat.' And I'm like, 'OK, let's go eat.' "
Once she graduates from high school, she intends to take a gap year. She says she won't stop working, but she's wary of burning herself out, so Reid will put aside time to "have fun" with some of her friends who are also taking gap years.
"I think it's definitely important to have that balance. You can overwork yourself, get overwhelmed, and then, when you get overwhelmed and start overworking yourself, bad things start to happen," Reid says. "I don't know what those bad things are, but I don't want to experience them."
Maintaining a work-life balance is a lesson other young Hollywood stars didn't learn soon enough. Reid knows that keeping her head on straight, leaning on her support system, and keeping her faith top of mind will lend her longevity in this line of work. Because, as she describes it, her talk tinged with a religious bent, it's bigger than her. And if she wants to make any kind of difference in this world, she's got to stick around.
"I feel like I understand my purpose now," Reid says. "I'm not just acting, and acting doesn't define me. I feel like I was given my talent to be able to inspire people. So through that, I've been able to be very intentional with the projects that I choose to be a part of, and I have the luxury of doing that, thankfully. I don't have to do a project just to do it. I want them to be purposeful, I want them to be having progressive conversations because if I'm not helping myself, how am I gonna help others? I need to be a person of service through my acting career."