Tessa Thompson Just Reinvented the Basic Necktie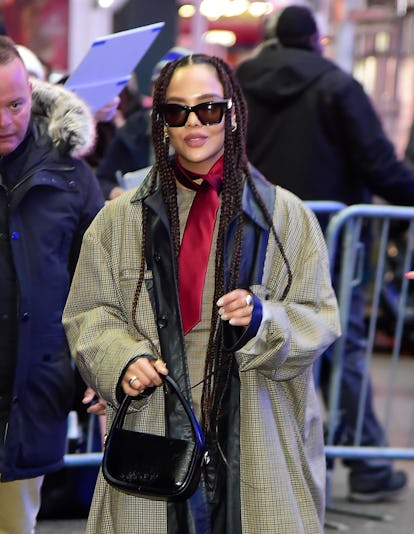 Raymond Hall/GC Images/Getty Images
Tessa Thompson is a fashion innovator. Not only does she have great style (something we've known for awhile), but with the help of her stylists, Micah McDonald and Wayman Deon, she constantly manages to include quirky little original details in her looks that take them to a whole other level.
The perfect example of this came on Thursday, when Thompson was seen out in NYC for an appearance on Good Morning America to promote her new film, Creed III. For the occasion, the actress wore a cute, pattern clashing look featuring a brown plaid mini dress with a brown, double-breasted, pinstripe blazer from Filippa K on top. While outside, she placed an oversized coat on top in another brown plaid to continue playing into the patterns of the look. Most would have left it at that, and it would have made for a good, if not very good ensemble. But Thompson added one more element to bring it to another level. She took a red satin tie and looped it around her neck, almost like a scarf, in a way unlike anything we've seen before. It's odd, and completely useless against the cold, but it is undoubtedly cool.
Once inside the studio, Thompson ditched her coat and reconfigured her "scarf," tying it into a bow around her neck. Rosettes have been very in recently, with many celebrities adorning the accessories on their necks attached to chokers (Harry Styles brought an exagerated version of the trend to the BRIT Awards earlier this month with the help of Harris Reed at Nina Ricci). Thompson, though, brought a refreshing take on the trend, by taking a totally normal, ever day clothing item and wearing it in an unexpected way to create a similar effect to a popular trend. Again, an innovator.