Timberland Celebrates 50 Years By Looking Towards the Future
The workwear-streetwear brand tapped six creatives to reimagine the iconic six-inch boot.
---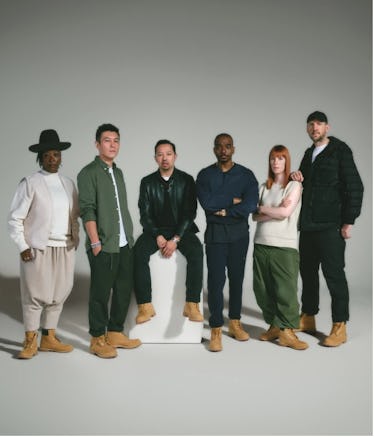 From left: Nina Chanel Abney, Edison Chen, Humberto Leon, Samuel Ross, Suzanne Oude Hengel, and Christopher Raeburn. Courtesy of Timberland.
If you grew up in the '90s, chances are you have a Timberland moment lodged in your memory. For the artist Nina Chanel Abney, it was an image of the rapper Nas wearing yellow Timberland boots and denim. For the designer and creative director Humberto Leon, the look was his own: baggy oversized shorts, a white V neck tee ("controversial, I know," he laughs), and classic Timbs, as they're affectionately known, with thick white socks. A-Cold-Wall founder Samuel Ross remembers putting on his first pair at age 10 while visiting family in Barbados. "It was the first engagement, not really with the idea of luxury because I was ten, but with the idea of quality: how material can make you feel different," says Ross. "It felt like I was part of a conversation, culturally and stylistically."
This week, Timberland is turning 50, and rather than dive into a past rich with pop culture hits and cultish reverence, the workwear-streetwear-adventurewear brand has invited six creatives — including Abney, Leon, and Ross; as well as technical menswear designer and Timberland Global Creative Director Christopher Raeburn, knitwear innovator Suzanne Oude Hengel, and Edison Chen, the founder of the streetwear brand CLOT — to reimagine the classic six-inch boot with an eye toward the future. Each guest designer will contribute a capsule collection of apparel alongside their boots, to be released in seven drops. The project is called Future73, in reference to the introduction of the six-inch boot in 1973.
Hengel's approach incorporated technical knits in bright hues.

Courtesy of Timberland
"We have a set design formula on a couple levels," explains Chris McGrath, Timberland's Global VP of Design and Development, who is overseeing the project. "The footwear connoisseurs know every single little detail there is about that product. We're not very cautious, but we're very particular. We looked at remastering: taking an archival piece from the vault, then applying dematerialization, color, and seasonal input. Then, we reimagine. This is where we look to our collaborators."
The six capsules give insight into the direction the brand plans on taking in the years to come. For one, apparel is a serious focus, perhaps for the first time for a label often synonymous with a single product. So are sustainability and community. Take Raeburn's capsule: the designer scavenged army navy surplus stores to uncover discarded parachutes and tactical garments, giving the materials second life as futuristic outerwear. His boot is designed to be taken apart and recycled. Hengel transformed the six-inch's current 39 parts to one: a single knit component glowing in playful, neon shades. Chen, in continuation of a lifelong mission of bridging eastern and western cultures, developed forest green garments incorporating "an old Asian aesthetic into a more Western presentation," he says. Leon blew up each component of the boot, resulting in a six-inch that is at once fully nostalgic and modern club kid. Abney, meanwhile, looked at her own wardrobe for inspiration, approaching her collection, which includes oversized knits with figurative illustrations drawn from vintage hunting sweaters, with the same refined eye she applies to her fine art process.
"When I'm painting, I'm trying to minimize something to its bare essence, trying to create a more universal language," Abney reflects. "So, I think that's my approach when I'm thinking about clothes: simplifying them so they still have my touch but in a way that is very wearable."
Ross, who made his capsule in Italy, delivered an elegant, minimal interpretation, stripping the shoe to its essential elements and subtly integrating the parts of himself that aligned with everything Timberland stands for. "When I think of Timberland, I think of craft; I think of this notion of tension and durability and sustenance—reconceptualizing modern masculinity," he says. "How do we not distort an icon but also give the space for an icon to breathe? Timberland doesn't need a new vibe. It actually needs an affirmation of what it already is."