Daphne Guinness talks scent, perfect pitch & squirrel holes
I spent an hour with Daphne Guinness yesterday afternoon to see—and smell—her first fragrance, a collaboration with Comme des Garcons. Wearing a white t-shirt under a sleeveless white jacket with jeans and insanely high platform...
---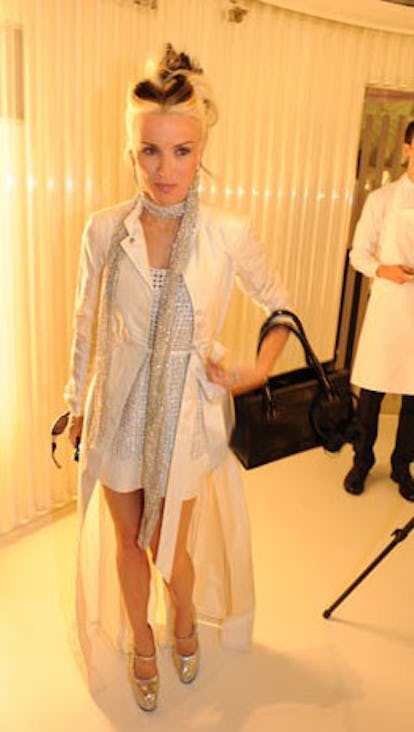 Her scent, Daphne (out in September), is a woody concoction with hints of bitter orange, saffron, iris, patchouli and amber. "This has a lot of woods because that's what I love," she told me. "These notes represent my life. There's Spain, the Middle East, France, Ireland—also the Seventies and moss."
We engaged in the usual fragrance chatter for a bit—"juice," "notes," "noses," etc. "Did you know that most people who study to become noses drop out after the first year?" she asked me. "Noses are like musicians. Lots of people quit after the first year." When I mentioned that Josie Natori told me she thinks there's a direct correlation between having a good "nose" and having perfect pitch, she got excited. "I have perfect pitch!" she exclaimed.
I must admit, during our conversation I found myself a bit distracted by her jewelry. She was wearing three rings on her left thumb (all other digits were naked), one of them with a diamond that had to be seven carats. She also had a stunning array of diamond bracelets on her left wrist.
Obviously, this is one rarefied creature whose feet rarely touch the ground. But as a mother of three, she does have contact with the "real world." As I learned, her son, who just finished his second year at Yale, has a hole in his New Haven bedroom apparently dug by a squirrel. "The entire house is off-kilter," she said with a laugh. "But somehow, they manage to go on."
See our profile of Daphne Guinness from the March 2009 issue.