Stick to Your 2021 Resolutions With These Products and Programs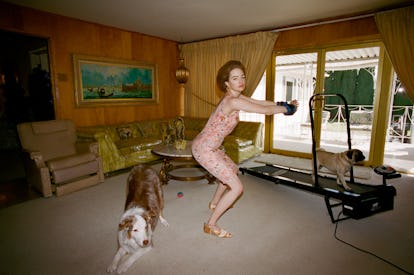 Directed and Photographed by Yorgos Lanthimos; Styled by Sara Moonves.
The promise of a New Year is always an exciting one, whether you're the kind of person who routinely sets resolutions or the type who prefers to wait and see where the next 12 months take you. Personally, I fall into the latter category, but after a year like 2020, I'm looking to set obtainable goals rather than concrete resolutions; I want to foster friendships again after a year of distance, and work on limiting my screen time (last year was a tough one for that, too). But resolutions don't have to be as daunting as they sound—instead, I'm choosing to see them as a promise to better myself in just a couple small ways. Sober curious, but unsure where to start? Ghia's non-alcoholic aperitivos are a chic and flavorful way to try out the lifestyle. Looking to step back into a workout routine you left in 2020? Do it in style, with a cheery bra and legging set from Bandier x Solid and Striped. Maybe you're like me and are tired of all the doomscrolling on your phone at night. Try Hatch's soft glow light for a calming ambiance before bed—or switch to a Light Phone, a new kind of cell dedicated only to calling and texting, free from all the extra distractions. Whether you stick to your goals and resolutions for just a few weeks or really see them through the year, it's never a bad idea to form a healthy habit. Start small with the below products and programs—we're rooting for you!