Classic Breton Stripes Get a Distinctly Balmain Update at Paris Fashion Week Men's Spring 2018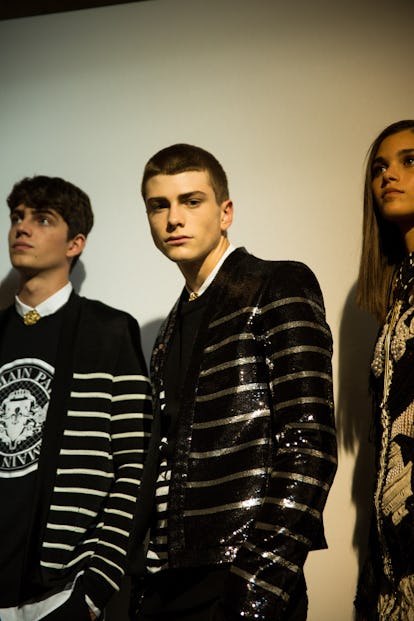 Photo by Portia Hunt for W Magazine.
Set to a soundtrack that included everything from Serge Gainsbourg and Brigitte Bardot to Indochine—French essentials spanning decades and genres—Olivier Rousteing's Spring 2018 collection for Balmain was a frenzy of Breton stripes and military details. Over 84 looks, counting menswear and womenswear alike, Rousteing eschewed much of the vivid color that usually punctuates his collections, opting instead for largely monochrome ensembles with a bit of red, white, and blue tricolor for good measure. This is not to say that it was an understated collection: Rather, in lieu of bright swaths of color, Rousteing doubled down on couture detailing, with fringed and sequined jackets, delicate beading on the bodices of dresses, poufs of tulle, and lace-up boots that seem to never end. Plus, men's skirts, emerging as one of Paris Fashion Week's most notable trends, make another, welcome appearance. Go behind the scenes of the latest Balmain collection with photographer Portia Hunt, here.