I Still Want to Buy Fall Shoes Even Though I Barely Go Outside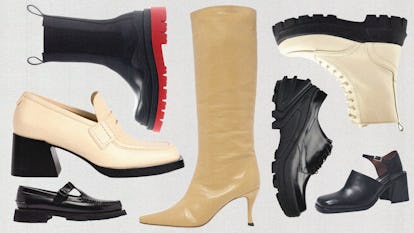 Collage by W Magazine.
Despite having worked in fashion for the better part of my adult life, I've never considered myself to be much of a shopper. Rather than buying into trends, I gravitate towards well-made basics that I can keep for years, which usually keeps the shopping trips to a minimum. But if there's one category that tends to be an exception to the aforementioned rule, it's shoes. My weakness. I have to say, those well-made basics tend to look a lot better with the season's newest footwear. This fall, in the midst of a global pandemic, my desire to step up my shoe game is completely ridiculous, since I almost never leave my house. But that hasn't stopped me from dreaming. The longer restrictions last, the more I find myself fantasizing about what I'm going to wear when they're finally over. Some of us escape by leaning into a Netflix binge, I fill an online shopping cart. Please, join me in the fantasy. Here are all the shoes I'm thinking about buying, even though I never leave my house.