A Brief History of Jared Leto's Love Affair with Ponchos and Capes, from the VMAs To Ischgl, Austria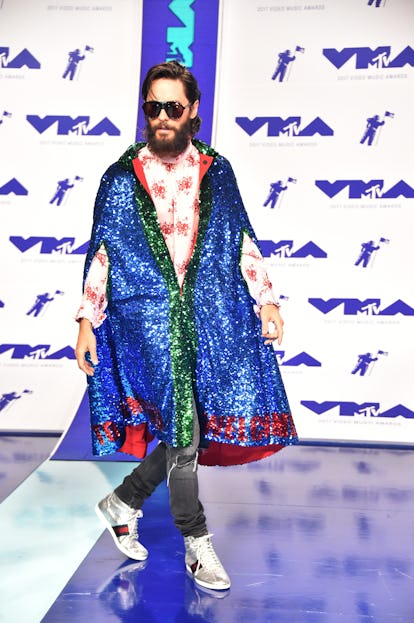 Though they're hardly the most fashion-forward items, given that they're some of the easiest garments to hide under, it's hard to blame any celebrity for wearing a poncho or a cape if they're looking to simply stay cozy or escape the public eye. Jared Leto, however, is fond of neither of those activities—and yet, never one to miss out on racking up the eccentricities, has somehow has become the music and Hollywood industry's biggest proponent of the glorified body bags.
Take, for example, the sequined-cover poncho-cape Leto showed up to the VMAs red carpet in on Sunday night: There was no missing his glittery, bright blue number, which definitely served the actor in reminding the public that, lest you've forgotten in between his expertly method-acted and neon green roles as the Joker, he's also been the frontman of the rock band Thirty Seconds to Mars since 1998—a full two decades in which they may not have gained so much of the industry's respect, but have sold more than 10 million copies of their records worldwide. (A swath of Gucci is definitely a more efficient way to promote an album than playing so many shows for one album that you win a Guinness World Record.)
Of course, Leto is hardly the only celebrity lately to sparkle in Gucci—exhibit A: Kim Kardashian and her butt—but having recently become Alessandro Michele's right-hand man in fact seems to have little to do in Leto's latest red carpet outfit of choice. For the last six years now, Leto has been consistently rocking ponchos and capes everywhere from the the VMAs to Ischgl, Austria—and sometimes even dared to repeat the same one within the space of a week. Take a look back at his most glorious garbs—some presciently Game of Thrones-themed, some covered in bunny rabbits, and some even Kanye West-approved—here.