See Kim Kardashian's Butt Literally Sparkle In a Gucci Bodysuit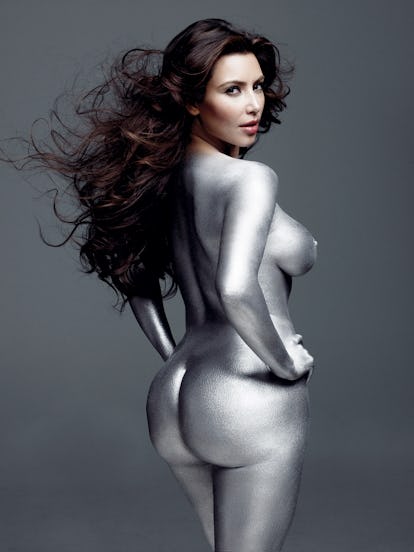 Over the past few years, Kim Kardashian as had a bit of a make-under, thanks in large part to husband Kanye West. Gone are the days of Herve Leger bandage dresses and platform heels, and in their place a minimalistic, neutral-hued wardrobe—with plenty of Yeezy, of course.
But that's not to say Kardashian still doesn't know how to pull out a statement look from time-to-time. Quite the contrary, in fact. Just last night, the reality star and beauty mogul took to her Instagram story to show off her latest potentially internet-breaking ensemble. Fresh off a multi-part plea to her fans to stop bullying makeup artist-slash-internet personality Jeffree Star, who had criticized Kardashian's make-up "swatching" skills (very serious allegations amongst the online beauty community), Kardashian turned her Instagram attention back to what the fans truly want: a Kardashian wearing something incredibly over-the-top, preferably extremely revealing.
First, Kardashian showed off a truly mind-boggling, nude leotard. Could this be a peek at Yeezy Spring 2018? But no, it was merely a building block to the pièce de résistance: a full-body, crystal encrusted bodysuit, as seen on the Gucci Fall 2017 runway.
"Set vibes," she cooed in one of the videos, before posting a series of mirror shots, as well as a very sparkly night-time video showing off the glitter power of the crystals. So what could the ensemble be for? A casual family catch-up scene for Keeping Up With the Kardashians? The official Kim Kardashian 2018 calendar? Just an Instagram shoot we'll seen soon enough? Only time will tell.
What we do know is that Kardashian is not the only person to step into the very extra ensemble. Following her videos last night, Star posted a video of himself wearing the very same bodysuit. "Ya'll want to be shady, but me and Kim have the same Gucci outfit, bitch," he said in the video. "I think they only made about 20 of these. Kim, you look f—ing hot in it. Let's have our asses do a playdate." Beef squashed?
Of course, if anyone was going to be the first to wear the truly statement-making look, it would be Rihanna, who did it at Coachella back in April. It's an ensemble that begs the question: Can a mere mortal wear this?
Let model Aline Dentler, who originally wore the outfit on the Gucci runway, break it down. "I really liked my outfit because it's not a common Gucci look; it was so sparkly, and the hot pants and tank top looked amazing together," she said. "The fact that you couldn't see my face made my nerves fade away, so that even helped me a little."
Related: Meet Aline Dentler, the Model Hidden Under All Those Rhinestones at Gucci Fall 2017
Edward Enninful Reflects On Kate Moss, Kurt Cobain, And the Best Of '90s Fashion
How to Instagram Like Kim Kardashian