March For Our Lives: See the Rallies From All Around the Country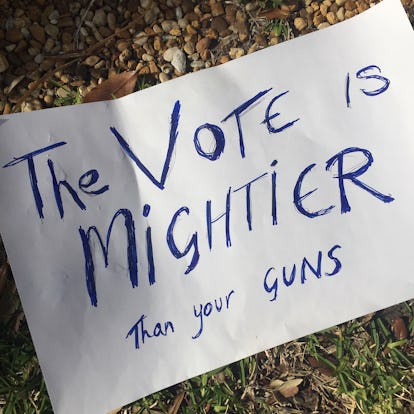 Photo by @marchforourliveswestpalmbeach.
After the Marjory Stoneman Douglas High School shooting in Parkland, Florida on February 14, thousands of student activists organized a movement to protest gun violence and honor the 14 students and seven faculty members who were murdered at school. The anti-gun violence rally known as the March for Our Lives then took place on Saturday, March 24, as students rallied together around the world with hundreds of thousands of others to demand legislation that protects citizens from gun violence across the United States, and particularly in schools. Across over 800 cities around the world, using the hashtag #NeverAgain and chanting "Enough is enough," attendees of the March for Our Lives rallied in New York and Los Angeles, but they also gathered in Boston, Miami, Dallas and Chicago to convince lawmakers to enact policy changes that control the sale and purchase of firearms around the United States and ensure that there is never another school shooting ever again. From the Civic Plaza in San Francisco to the Cathedral of the Rockies in Boise, Idaho, these are the photographs taken by protestors seen on the ground at the various marches around the nation.