A 17-Year-Old Activist on What the Nationwide Gun Control School Walkout Really Meant
"I suspect a number of adults will read this article and roll their eyes."
---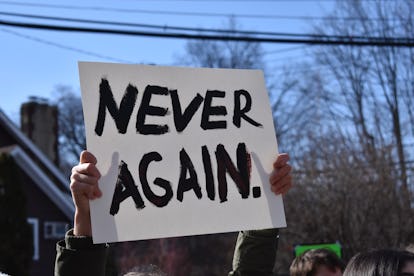 Photo by Dylan Rubin
Just as I've come to expect after a year and a half of community organizing, the end of our most successful protest brought a barrage of nasty Instagram comments along with it. As the resounding chants from the morning of Wednesday walkouts slowly tapered off and a hundred students filed back into their second-period classes, I put my sign down next to my bag (which was filled with face paint and emergency art supplies) and picked up my phone. I watched as hundreds of NRA supporters left their unsolicited opinions on my outfit, my voice, my capabilities, even the shape of my face—and I burst with pride. Concerned texts from friends who'd noticed the taunts began to trickle in, too, but I brushed them all off, preferring to absorb the peculiar but massive sense of accomplishment I felt. Watching the trolls light up my DMs confirmed that our risks had paid off, and that my friends and I had succeeded in our goal: causing enough of a controversy to spark a dialogue. As they say, practice makes perfect, and there is a glorious precedent of teens sparking dialogues to tackle what are usually deemed "adult issues." That morning, we'd managed to continue that tradition.
I'll go back a bit and give you some context. I'm 17, and on Wednesday, at my high school in Westchester, New York, I was one of the thousands of students who took part in a nationwide walkout to remind Congress of the need for gun control legislation. This wasn't my first time being a part of a massive group of teens hungering for student-led movements; in 2014, when I was 14 years old, I co-founded Teen Eye Magazine as an exclusive platform to prove that our generation was capable of mature and intellectual thought.
We felt an urgency, which has far from left us today. We watched the rallies in Ferguson, we watched political scandals unfold, we watched social media's role expand, and we watched our government neglect regulations that would benefit our lives. We watched the headlines accumulate. We watched students lose their lives when they least expected it. Between police brutality and school shootings, we were bombarded with stories of children being murdered. Trayvon Martin. The Sandy Hook students. Tamir Rice. There was a clear link between all of these stories: each time, a gun was used recklessly, and each time, that resulted in devastating effects.
That guns were always part of the equation didn't escape our attention, either. Our publication, which is created entirely for teens, by teens, may have started as one that focused on the fashion industry, but it wasn't long before our inboxes filled with pitches on current events, which we welcomed with open arms. Most teens can't vote, so we need some other way to get our voices heard. And so, after the 2016 presidential election, Teen Eye became decidedly political. We were tired of being told we were the future, only to be disrespected in legislation. Teen Eye's contributors and staff not only demanded that students be taken seriously, we demanded that our survival be a factor in our government's plans.
When news broke about the mass shooting in Parkland last month, I felt the same wave of emotions I've grown to expect after these attacks. I was angry and heartbroken and terrified knowing that this tragedy would be normalized; I was terrified that my school could be the next headline. My classmates and I felt hopeless; we started to grow numb. But when the survivors, a group of kids our own age, put their foot down, we became part of the teens across the country who became reinvigorated. We'd been conditioned to go through the motions: obligatory moments of silence, tweets of thoughts and prayers, Facebook filters, and then full-on silence until another tragedy sent shock waves through our system once again. But then #NeverAgain began, bringing plans for nationwide #MarchForOurLives protests with it.
In the case of my school, the administration was so eager to support our protest that they, perhaps unintentionally, co-opted it. When they set out a route and a clear set of instructions, my friends and I kept our heads down and posted in our Facebook groups. We skipped studying for math tests to rally kids from every grade and work together until we felt the movement was back in our own hands. We stayed up late drawing signs, writing speeches, and coordinating outfits. And on the day of the protest, we were one hundred kids strong.
Each grade was represented in the 17 minutes we stood outside. Freshmen Dylan and Sophe each brought their hefty camera equipment to serve as photographer and videographer, respectively; sophomores Griffin and Derex shared signs; juniors Eliza, Isabella, and Molly disseminated homemade pamphlets on how to continue the momentum; and my senior friends Maddie, Lilia, and Jennie and I led chants. (Among some of my favorites: "No more silence, no more violence;" "Disarm hate," and "Hey hey, NRA, how many kids did you kill today?") We focused on mobilizing, not just memorializing. And we spread that message like wildfire, which is why my DMs are still bursting with extremist NRA supporters twice my age chastising and attempting to ridicule me.
I suspect a number of adults will read this article and roll their eyes. They will make a number of claims—that the movement wasn't legitimate because it was orchestrated in the space between class periods, by kids who work as babysitters and ice cream scoopers and camp counselors. But I don't believe our commitments should detract from the issue at hand. The fact that our schedules are so busy makes our mass mobilization so much more impressive. Teens are expected to make schoolwork our main priority, but we're not single-minded; we will lead the revolution from our bedrooms, bring it into the classroom, spread it across the country, and refuse to stand down until legislative changes are made. My generation is not just the one that will patch up the future. We are also the ones who will revolutionize the present.
Odesser's Quick Guide to Taking Action:
Em Odesser is the editor-in-chief of Teen Eye magazine.
Related: "Enough": The Most Moving Images From School Walkouts Across America For Gun Control