"Enough": The Most Moving Images From School Walkouts Across America for Gun Control
These kids have had enough.
---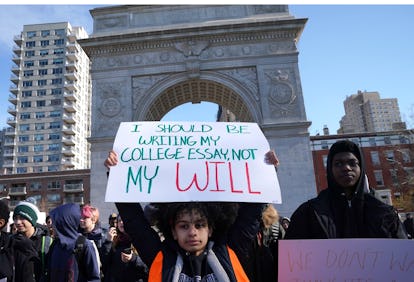 TIMOTHY A. CLARY/AFP/Getty Images
Despite facing threats of suspension and worries about admission from colleges who disapproved of their action, on Wednesday thousands of students, in their continued lobbying for gun control legislation, simultaneously walked out of their classrooms at 10 a.m. EST to protest for 17 minutes to remind Congress of the 17 students killed at Marjory Stoneman Douglas High School in Parkland, Florida, last month.
Of course, they weren't just protesting for those 17 souls. The students who survived 19-year-old Nikolas Cruz's open fire when he strolled onto his former campus with semiautomatic weapons have since become activists and have repeatedly stated that the number of school shooting victims has skyrocketed for at least as long as their lifetimes. They were not only born into the post-Columbine era, but also forced to grow up in an time when school shootings have become almost commonplace—in fact, since the Sandy Hook tragedy claimed 26 lives in 2012, more than 400 people have been shot in more than 200 school shootings across America.
The effort for increased gun control has been revived since the Parkland shootings; the day before the walkouts, the advocacy group Avaaz laid out 7,000 pairs of shoes on the lawn of the Capitol (taking the 1,300 children who are shot to death each year, multiplied by the years that have passed since the Sandy Hook massacre). Their gesture was undeniably powerful, just like the support pledged to students by select school administrations and celebrities ranging from Lin-Manuel Miranda to Susan Sarandon to Michelle Branch.
At the same time, though, starting with Parkland, the students behind what seems to be the effort's long-awaited turning point have made it clear from the start that while they greatly appreciate the support, they're also more than capable of standing on their own. They've been standing up to politicians for weeks now, including taking down Marco Rubio on national television, as well as showing their strength in ways as simple as making signs that pack a punch. Their messages on Wednesday ranged in tone from striking ("Am I next?" and "stop sending us to school to DIE") to casually disturbing, like a rainbow-hue "guns have more rights than my vagina" and a take on the "distracted boyfriend" meme with the man as Trump, the woman in his gaze as "the NRA," and the scorned girlfriend in his wake as "our lives."
As thousands of students gathered on Capitol Hill and outside the White House on Wednesday, the protests spread all over the country. Walkouts in at least 2,500 schools were publicly scheduled beforehand. Thanks in large part to social media, students also been able to connect by turning their slogan—"enough"—into a hashtag, making it so that adults, students who couldn't take the risk, and the lone student who decided to deal with suspension anyway so that his school would be a part of the walkout could unite. A look at the students who have had enough, here.
Related: Everyone Is in Awe of the Florida Shooting Student Activists