Amal and George Clooney Pledge Their Support to the Parkland Students' March For Our Lives
They donated $500,000 to the event in honor of their twins.
---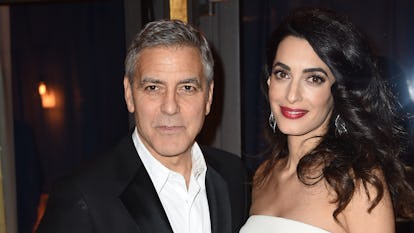 Getty Images
Amal and George Clooney have combined two of their most important roles—as humanitarians and new parents—to pledge their support to the March For Our Lives movement, a nationwide march established by the survivors of last week's deadly shooting at Marjory Stoneman Douglas High School in Parkland, Florida. The march, which supports stricter gun control legislation in order to protect American students from similar tragedies, was organized by Douglas students Jacqueline Coren, Emma Gonzalez, Cameron Kasky, David Hogg, and Alex Wind, with the help of the Everytown for Gun Safety nonprofit, and will take place primarily in Washington, D.C., on March 24, in tandem with other, smaller marches around the country.
In a statement released to Variety on Tuesday, the Clooneys shared their decision to support the movement. "Amal and I are so inspired by the courage and eloquence of these young men and women from Stoneman Douglas High School," the statement reads. "Our family will be there on March 24 to stand side by side with this incredible generation of young people from all over the country, and in the name of our children Ella and Alexander, we're donating $500,000 to help pay for this groundbreaking event. Our children's lives depend on it."
After several Parkland students spoke out over the weekend about the march and their commitment to fighting for common-sense gun laws, many more celebrities pledged their support to the movement on social media. "YESSSSS EMMA GONZALEZ!!!!!!! Thank you for your voice, and for your bravery and honesty while using it✊?," Zendaya tweeted on Saturday. "Parkland Survivors and others that are standing up through the media are so brave and are true role models. I'm speechless at their courage. And so proud that these kids and young adults are our future. #GunControl #ParklandStudents The question now is will our leaders listen," Lady Gaga wrote Monday.
To learn more about the March For Our Lives, donate to the movement, or organize a march in your community on March 24, visit the movement's website.
Related: Sarah Sophie Flicker: Why the Gun-Control Debate Is Inextricably Linked to the Rest of the Political Landscape Right Now
The Art of Politics: What Happens When 15 Artists Take On the Campaign Poster
The Italian provocateur Maurizio Cattelan is best known for satirical art works that send up art history and notions of grandeur—institutional or national—such as his life-size wax effigy of Pope John Paul II downed by a meteor. For W, he created an original image suggesting the quackery threatening our most revered symbols.

Produced by Diane Solway
Nina Chanel Abney's large-scale paintings confront the social issues of the Black Lives Matter movement and the relationships between police officers and people of color. Irreverent, bold, and pop-savvy, they're layered with words and faces in a bright mash-up that recalls Matisse's cut-outs.

Photograph by Teddy Wolff. Produced by Diane Solway.
George Condo burst on the scene in the early 1980s alongside artists like Keith Haring and Jean-Michel Basquiat, helping to usher in a new age of painting that mashed up classical sources with a street-art edge. His most widely seen artwork is likely the five provocative covers he made for Kanye West's 2010 My Beautiful Dark Twisted Fantasy. He has titled his W poster All Saints All Souls Election Day…CAMPAIGN FOR FREE TIME.

All Saints All Souls Election Day…CAMPAIGN FOR FREE TIME. Produced by Diane Solway.
The Berlin-based artist duo Elmgreen & Dragset, who created the pool at Rockefeller Center in New York City this past summer and the Prada store in Marfa, Texas, explore identity, sexuality, and mortality in site-specific sculptures and works that are often tinged with dark humor. Their election poster is no different. (There's always hope, right?)

Produced by Diane Solway.
Marcel Dzama, 42, and Raymond Pettibon, 59, began collaborating in the summer of 2015, when they first swapped and completed each other's drawings. In this poster, as in their joint drawings, their styles combine so seamlessly that it's as if each artist absorbed and anticipated the approach of the other.

Oh beautiful tyranny: Courtesy David Zwirner, New York/London. Produced by Diane Solway.
Zoë Buckman and Hank Willis Thomas teamed up to produce a poster for the campaign of a powerful woman—in this case, Jemima Kirke, an artist and star of the HBO series "Girls." Here she wears rose-colored glasses made of specula to envision a brighter future. The London-born Buckman has focused on feminism in her work, while Thomas has long examined how race, class, and sexuality have been depicted in mainstream media and advertising.

Styling by Sarah Zendejas; hair by Johnny Rackleff at Marie Robinson salon; Makeup by Hiro Yonemoto for Dior at Atelier Management; Manicure by Yuko Wada for Dior at Atelier Management; lighting technician: Hai Ngo; digital technician: Marion Misilim; lighting assistant: Ben Berry; fashion assistant: Alexandra Pastore; Kirke wears Gucci top; Bodas top (underneath); (from left) Theodora Warre earring; Paige Novick earring. Produced by Diane Solway.
Founded by American artists Nicole Eisenman and A.L. Steiner, Ridykeulous mounts exhibitions and events primarily concerned with queer and feminist art. Their work uses humor to critique the art world as well as the culture more broadly. As a solo artist, Steiner has worked in performance, video, and photography to explore questions about sexuality, gender, and politics. Eisenman, best known as a painter, was the subject of a solo show earlier this year at New York's New Museum and a 2015 recipient of the MacArthur Genius Grant.

Produced by Diane Solway.
The Turner Prize–winning artist Jeremy Deller, who represented the U.K. at the 2012 Venice Biennale, creates collaborative installations and projects that have included parades and battle re-enactments. His 2001 The Battle of Orgreave, which was filmed, brought together nearly 1,000 people in a public re-enactment of a violent confrontation between miners and government forces. Here he creates a poster in the style of famed 19th-century British designer, craftsman, activist, and poet William Morris, who pioneered the Arts and Crafts movement and was also a social activist. Vote for the artist as social activist.

Vote William Morris, designed by Fraser Muggeridge Studio. Produced by Diane Solway.
Kathryn Andrews's first U.S. solo museum show, "Kathryn Andrews: Run for President," riffed on Bozo the Clown's presidential bid—something Bozo's alter ego, Larry Harmon, actually pursued in 1984. (You might say there are still imitators.) The exhibition included a mural of political-documentary photographs that invited viewers to think about how politicians, celebrities, and artists use imagery to gain and maintain power.

Produced by Diane Solway.
Moscow-born, New York-based painter Sanya Kantarovsky loves pictures—whether by the Russian masters, Western modernists, or Soviet political cartoonists—that tell stories. Drawing on a wide range of sources, his tantalizing paintings and drawings are tense with drama and dark humor.

Photograph by Adam Reich. Produced by Diane Solway.
Born in Poland and based in London, Goshka Macuga, a 2008 Turner Prize nominee, makes large-scale tapestries, sculptures, photographs, and theatrical installations that explore how art can be used to spark public debate and bring about social change. She was the subject of solo shows earlier this year at the New Museum in New York and the Prada Foundation in Milan.

Produced by Diane Solway.