Amal and George Clooney Are Housing a Yazidi Refugee and Giving Him a College Education
The latest addition to their family.
---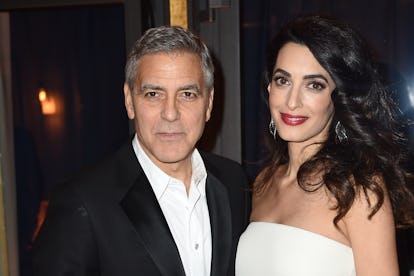 Stephane Cardinale – Corbis/Getty Images
Amal and George Clooney are two of the most visible humanitarians in Hollywood and, now, they've set the bar even higher. The married couple has extended their efforts to their very own home, as they have taken in a Yazidi refugee who narrowly escaped ISIS. In a new interview with The Hollywood Reporter, the actor opens up about it, saying, "He was on this bus to Mosul, and ISIS shot the two bus drivers and said, 'Anybody who wants to go to college, we will shoot them'. He survived and came to America. He got through all the checks, and once he got through those, it was like, 'Listen, we got your back. You want to get an education? You want to move your life forward? This is something that we can do.'"
Admirably, the Clooneys are now doing exactly that and helping the man receive a college education from The University of Chicago as he lives at the pair's estate in Augusta, Kentucky, where George Clooney attended high school. The refugee, who Clooney did not mention by name, is the latest addition to the power couple's growing family, which as of June 6 also includes twins Ella and Alexander.
This isn't the first time the Clooneys have reached out to provide assistance to those affected by ISIS. Currently, Amal Clooney is representing thousands of Yazidi refugees as well as launching an International Criminal Court investigation against ISIS for their crimes against Yazidis. "The European Parliament, the Parliamentary Assembly of the Council of Europe, the U.S. government and the U.K. House of Commons have all recognized that there is a genocide being perpetrated by IS against the Yazidis in Iraq," Amal told Women in the World last year. "How can it be that the most serious crimes known to humanity are being carried out before our eyes but are not being prosecuted by the International Criminal Court in The Hague?"
Clooney is also doing his part to assist refugees as he revealed in his interview with THR that he will be putting some of the money he profited from the sale of Casamigos Tequila — which reportedly went for up to $1 billion — towards relief for them. "Take $20 million and put it directly into our foundation [the Clooney Foundation for Justice]," he told THR. "It will go toward educating refugees, it will go toward housing, it will go to all the things that we want to work on."
Related: George Clooney Is Very Unhappy With Paparazzi That Went All Ocean's Eleven to Get Photos of His and Amal's Twins
George Clooney Reveals His Cinematic Crush: