George and Amal Clooney's First Meeting Was Literally Love at First Sight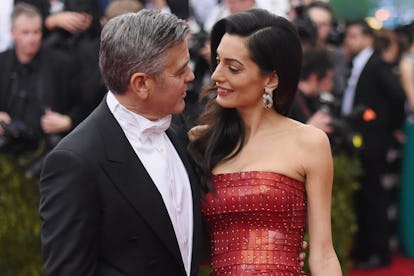 Mike Coppola/Getty Images
[George and Amal Clooney]https://www.wmagazine.com/story/george-amal-clooney-first-appearance-since-pregnancy-announcement) have had a fairy tale–esque love story from the beginning. With the courtship that sparked a million "Could She Be the One?!" tabloid headlines, the magical Venetian wedding, and the recent birth of their twins, the pair's history is something out of a storybook, complete with a happy ending. But one detail that hasn't yet been revealed before now: the story of how the Oscar winner and the human-rights lawyer actually met.
We finally have that little detail, thanks to George's dad Nick Clooney: According to People, George was at a dinner party with his parents back in 2013 when Amal walked in with a set of mutual friends. Nick and his wife Nina were actually the ones who answered the door for her, and they could tell almost immediately that there was some sort of connection sparking between the attorney and their son.
"She introduced herself to us and we talked," Nick Clooney tells People. "She was obviously very charming, gorgeous, and so clearly accomplished, but by the time we had supper that night, it was clear there was a kindness to her and an inclusiveness."
At the time, George was a notorious bachelor, but his dad had a feeling that this time things would be different. "By the end of supper, I started looking over at Nina and saying, 'Look ouuuut, this could be trouble for this young man!'" Nick says. "I really think by the time that first [meeting] was over, his and her fates were sealed, both of them. She was so remarkable and he was so remarkable around her."
Nick noted in the interview that George and Amal's meeting was "just different" than any of the other relationships he'd seen his son in since his teenage years, and he could tell that "this young woman meant something to him almost immediately. It was just amazing."
Father knows best, apparently.
Related: Hollywood Heartthrob George Clooney Has Come a Long Way Since the '80s
George Clooney Reveals His Cinematic Crush:
Amal Alamuddin's Stylish Wedding Weekend