George Clooney's Tequila Company Casamigos Sold for Up to $1 Billion
Cloon the tequila tycoon.
---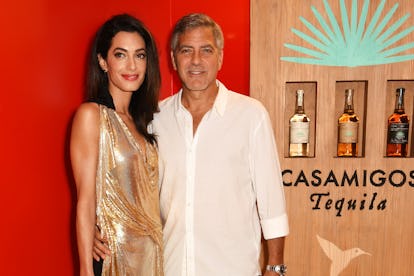 Dave Benett/Getty Images
CNBC reports that George Clooney—actor, philanthropist, husband of Amal, noted practical joker, tequila enthusiast—has sold his popular tequila company Casamigos to Diageo, a British alcoholic beverages company, for as much as $1 billion. (He owns the company alongside his fellow founders and longtime friends, Mike Meldman and Rande Gerber (husband of Cindy Crawford and father of two aspiring models, Presley and Kaia).
"If you asked us four years ago if we had a billion dollar company, I don't think we would have said yes," Clooney said in a statement. "This reflects Diageo's belief in our company and our belief in Diageo. But we're not going anywhere. We'll still be very much a part of Casamigos. Starting with a shot tonight. Maybe two."
CNBC helpfully explains that the reason for the "as much as" $1 billion figure is due to Diageo saying it will initially pay $700 million upfront to acquire Casamigos, with the potential for an additional $300 million being added in about 10 years based on the tequila's performance within the company. Regardless, that means Clooney will get a payday of at least $233 million. We're sure that the new dad won't be too displeased with the profit margins.
As funny as it may be to think of "George Clooney, Tequila Tycoon," Casamigos (which loosely translates to "house of friends") has proved to be an astronomical success in sales and critical reception since its public debut in 2013. In a recent interview with the Gentleman's Journal, Clooney said that the company's origins stemmed from wanting to enjoy a fine tequila without having to cover it up with salt or lime. "All expressions are great served neat or on the rocks," he said, "and are the perfect base for premium cocktails."
And now, he's laughing his way to the bank.
Related: Cindy Crawford Helped Throw George Clooney a Surprise Birthday Party
George Clooney Reveals His Cinematic Crush