George Clooney Is Very Unhappy With Paparazzi That Went All Ocean's Eleven to Get Photos of His and Amal's Twins
The actor is threatening to prosecute the photographers "to the full extent of the law."
---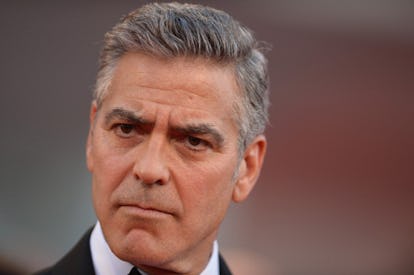 AFP/Getty Images
George Clooney once joked that, having played a pediatrician on ER, he was well prepared to handle the twins that his wife, Amal Clooney, gave birth to in June. Just a month later though, Clooney is done with fun and games, with the paparazzi hounding the Clooneys so relentlessly for a photo of their twins that he's now threatening them with lawsuits.
"Over the last week photographers from Voici magazine scaled our fence, climbed our tree and illegally took pictures of our infants inside our home," Clooney said in a statement, after photographers who made it onto his estate in Lako Como, Italy. "Make no mistake the photographers, the agency and the magazine will be prosecuted to the full extent of the law. The safety of our children demands it."
The two extremely blurry photos that have emerged from their break-in are hardly internet-melting material; they showcase, just barely, the backs of the babies' still mostly hairless heads. And while the paparazzi undeniably overstepped their boundaries, it's no surprise that they're getting thirstier and thirstier for info about the twins: At the moment, all that's really known about the pair is that they consist of a boy named Alexander, a girl named Ella, and that the Clooneys plan to raise them in London.
It also can't come as too much of a surprise for the Clooneys that the media has resorted to less than ethical tactics: In Touch reportedly managed to get a close-up look at the pair's wedding in 2014 by using a drone. (The pair at least partially foiled that attempt by making sure to hold their wedding indoors.)
Meanwhile, Amal, a high-profile civil rights lawyer who's often diminished as Clooney's stylish arm candy in the press, has her own way of dealing with pesky media: When a reporter finally did manage to get a quote from her by asking the inane question of what she was wearing at a case she was arguing that dealt with the Armenian genocide in 2015, it was the perfect response—she was, Amal deadpanned, "wearing Ede & Ravenscroft." (If the brand doesn't sound familiar, it's not some trendy label, but London's oldest gown and wig maker—and the maker of Amal and every other practicing prosecutor's barrister robes.)
Related: George and Amal Clooney's First Meeting Was Literally Love at First Sight
George Clooney Reveals His Cinematic Crush: