Everyone Is in Awe of the Florida Shooting Student Activists
The students have managed to become household names in their own right.
---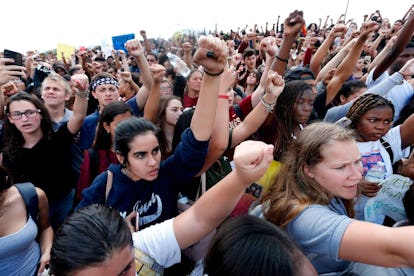 AFP/Getty Images
It's been just a week since a gunman, suspected to be ex-student 19-year-old Nikolas Cruz, killed 14 students and three staff members at Marjory Stoneman Douglas High School with a legally purchased AR-15 rifle—a tragedy that's dominated the attention of not just those in Parkland, Florida, but also the entire nation. That's largely because, as sadly common as school shootings have become, the students victims in Parkland are now making it their mission to become outspoken activists—meaning that the government is now facing an army of fiery teens strong enough to overcome their grief and eloquently and very publicly channel their anger at the American government.
Their power first became clear with Emma González, a senior whose speech "call[ing] BS" on the government's support went viral, with celebrities like Zendaya and Reese Witherspoon reposting it, adding messages like "Listen to her !" Meanwhile, as González was fielding phone calls from the likes of Demi Lovato, the rest of her classmates began to speak up, too—so effectively that much of the right-wing media and an aide to a Florida lawmaker accused them of being actors.
González wasn't one of the students or parents from Marjory Stoneman who met with Trump at the White House on Wednesday afternoon—a meeting that saw Trump, carrying a note to himself to actually listen to the victims, float the idea of adding even more guns to school settings. Later, he elaborated on Twitter that he was interested in giving "concealed guns" to teachers with "military or special training experience" to stop potential shooters, whom he called "savage sickos."
"I Will Not Be Silent": Hollywood's Biggest Names Pledge to Speak Their Minds:
The New York Times noted that many of the students invited appeared to support Trump, though some stood firm against the president, like the father of a student who asked Trump, "How many students have to get shot?" But the rest of the uninvited students were there in spirit via Trump's platform of choice, Twitter. Their words are now being echoed by tens of thousands on the platform, particularly since the Florida State House shot down a bill that would ban assault rifles on Tuesday. And, in what should come as no surprise, it turns out that the teens are much more adept at Twitter than the president. (González, for one, didn't have a Twitter account until about a week ago; as of Thursday morning, she's verified and has more than 300,000 followers.)
On Tuesday, Amal and George Clooney donated $500,000 to their movement, an amount that Oprah Winfrey quickly matched. By Wednesday night, Michelle and Barack Obama had tweeted their support, with Michelle saying she was "in total awe of the extraordinary students in Florida," adding that she and Barack are "behind you every step of the way." Zendaya and Black Lives Matter activist DeRay Mckesson also joined in on the praise, as did Chelsea Handler on Thursday morning:
And the student protest wasn't just on Twitter. A thousand students in Florida walked out of class and marched to the school to show their support on Tuesday. And in Florida's capital Tallahassee on Wednesday, the senior Delaney Tarr gave a speech directed at lawmakers, whom she said the students have been "disgusted" by; the video of her speech that began quickly circulating that afternoon. So far, it's proven inspiring enough for Olivia Wilde to declare Tarr her "#wcw," reposting her speech with the quote, "We didn't fail. The people around us failed us. And if they continue to fail us, then they will no longer be in office."
Ever since González and others began speaking out, it's repeatedly been said that the government chose the wrong teens to mess with—something that the students readily acknowledge. And in between, say, trolling Bill O'Reilly and Marco Rubio in-person, they've managed to constantly remind their audience of the gravity of the issues at hand.
Clearly, their strategy is working: Though the students have been organizing it in their parents' living rooms, the March for Our Lives, a rally on March 24 that's centrally taking place in Washington, D.C., already has satellite marches in more than a dozen other cities, including Liverpool, England—and promised attendees like Lin-Manuel Miranda and Justin Bieber. At this point, though, it's clear that even without celebrity support, the students most definitely have made themselves heard.
Related: Amal and George Clooney Pledge Their Support to the Parkland Students' March For Our Lives