The Best Home Goods to Give (and Get) as Gifts for the Holidays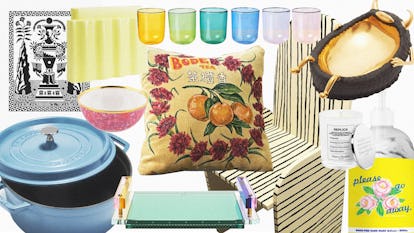 Collage by Tilden Bissell.
As the Covid-19 pandemic wears on and we're all stuck staring at the same four walls most days, there's been a significant uptick in people getting into interior design and researching DIY home renovation. The desire to make the space in which you're spending 99 percent of your day more visually appealing and comfortable is valid. And home suppliers, including Home Depot, Target, and HomeGoods, are reporting huge earnings since fall hit. Customers who might otherwise be spending their disposable income on, say, vacations, are instead tuning up their apartments and houses, preparing to hunker down for the winter ahead in a space that feels cozy and cheerful. We at W are no different—and with the holidays coming up, it's the perfect time to give (and get) some artful and chic items to spruce up your living room, kitchen, bedroom or bathroom. Browse a list of our favorite things—whether functional, purely decorative, or both—below.