Inside New York's Abortion Rights Rally to Uphold Roe v. Wade
Thousands gathered to condemn the Supreme Court's pending decision to overturn the landmark case.
---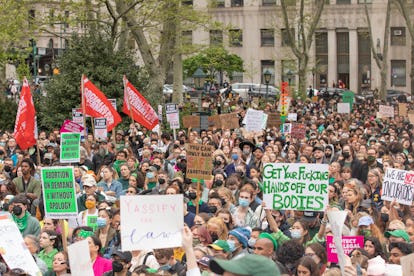 Photo by Serichai Traipoom
There was never any doubt that Tuesday would see protests break out all across America. In the late hours of Monday May 2, Politico published an unprecedented leak of a drafted Supreme Court opinion that spelled out the end for Roe v. Wade, posing the largest threat to an American's right to right to abortion access in the decades since the landmark 1973 legislation passed. (You can read everything we know—and don't know—about the contents and implications of the document, which Chief Justice John Roberts has since confirmed is authentic, here.) Demonstrations started out early in Washington, D.C., where pro-choice advocates gathered outside the Supreme Court to demand that the Biden administration take action. And they quickly spread across the nation to cities like New York, where one of the largest protests took place in downtown Manhattan's Foley Square.
The thousands who gathered at the intersection outside the New York County Supreme Court included ordinary citizens and public figures alike. And with the situation so dire, a number didn't shy from sharing their personal experiences with abortion with the public. Some did so via signs—one, for example, read "I survived an illegal abortion in Birmingham, Ala. in 1969"—while New York Attorney General Letitia James revealed that she had an abortion earlier in her career during a speech before the crowd. "I was in this place," she said. "I was just elected, and I was faced with a decision: Whether to have an abortion or not. And I chose to have an abortion. I walked proudly into Planned Parenthood. And I make no apologies to anyone, to no one…it's our right under the law."
James went on to note that the majority of Americans are of the same opinion: A recent national survey found that 53 percent feel that Roe v. Wade should be upheld, and only 28 percent feel it should be overturned. (The remaining 18 percent had "no opinion.") An even larger number—roughly 70 percent—expressed that they felt the decision of whether or not a woman should be able to have an abortion should be left to the woman and her doctor. But, as some protesters were quick to point out, the issue isn't just about women. Hear from some of the many who turned out in full force, here.