Ask Catherine Cohen: My Partner Wants to Open Our Relationship. Do I?
The comedian tackles questions about ethical non-monogamy, failed new year's resolutions, and fun New York City activities that don't vaporize $100.
---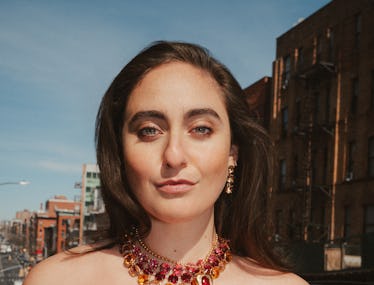 Catherine Cohen photographed by Ryan Lowry.
Catherine Cohen is a comedian and actress. In her original show tunes, in her character videos, and on her popular podcast Seek Treatment (cohosted with fellow comedian Pat Regan), she skewers the clichés of millennial aspiration, deadpans about sex on antidepressants, and earnestly celebrates such triumphs as finding love or drinking seven beers. Her Netflix special, The Twist...? She's Gorgeous, and her book, God I Feel Modern Tonight: Poems From a Gal About Town, are out now.
Have a question for Catherine? Send it to askcatherine@wmagazine.com for a chance to be answered in her next column.
Is there a way to set intentions/resolutions for the new year that isn't doomed to fail? I'm trying to be realistic but every January I suddenly decide I want to change everything about myself and then three weeks later I'm just disappointed.
Gasp! Your problem lies directly in your question—"change EVERYTHING about" yourself? I hope you don't want to change everything about yourself!! Everything?! Then who would you be? I know we've never met, but even the most dreadful of people have redeeming qualities because we are all made of stars and blood and bones and sweat and piss and carbs. I'm generally against new year's resolutions—they remind me of therapists who make you feel bad for missing sessions, personal trainers who tell you to quit bread, doctors who tell you to have two drinks a week, salespeople who want you to pay for AppleCare. Everyone should calm down in general I do think…
Also, I saw a TikTok that stressed how difficult it is to change something in the new year—January is the most sexless, isolating month. The sun sets at breakfast, and everyone is too cold to dress like a slut. Oof. Why not start a new resolution or shift in the spring—with the birds and flowers and shit?
Now if I'm annoying you and there is something you want to change, know that I support you 100% but would encourage you to pick one thing. I've filled the first three pages of SO MANY JOURNALS with plans to yoga, to meditate, to change zip codes and personalities and shoe sizes and it just doesn't last. This past year I picked one thing I wanted to do—walk more—a goal I felt was manageable and attainable. Now I'm addicted to my 10K steps/day and do feel it has improved my life. The rest of my day to day may be a disaster, but honey I'm gonna get my steps in!!! Pick one thing that excites you and then just relax a bit. I'm sure you're lovely just as you are Xo
My partner of six years wants to open up our relationship. We've never had issues with infidelity in the past, and I initially reacted very negatively to the idea. But now I'm mulling things over: It could be healthy and exciting for both of us, it could be a disaster, or it could be somewhere in between. I'm curious if you have any thoughts on ethical non monogamy? Is there a right way to do it? Is it even possible for it to work long term if you're trying to eventually build a family together?
Ooo sweetie it might be winter, but here at Ask Catherine Cohen the water is warm, so let's dive in! I adore this trendy question for it is one I—a horny woman in constant need of attention, distraction, and general amusement—have contemplated often. Full disclosure, I've experimented with open relationships twice: in one instance, it paved the pathway to the singledom I didn't realize I was craving, and in the other, it brought me closer and hornier to my partner than ever before. It's cliché, but every relationship is so different—you must ebb and flow with whatever best suits you and your beloved.
First off, your initial reaction to your partner's request makes perfect sense and your partner's request also makes sense. Broaching the topic of an open relationship is difficult! It's sexy and scary and once the question has been spoken into being, it fills up the air in a flurry with fumes that can both intoxicate or suffocate your big, beautiful brains and hearts. Oh the drama—and the pleasure! How wonderful to have found a lover who can communicate their needs! This is the true mark of someone who wants to be a better partner to you, someone who loves you enough to be honest even when discomfort arises. In fact, sometimes just talking about those needs is enough to scratch the itch and can make your one-on-one encounters in the bedroom feel new and exciting. Other times, you might want to fully rethink your relationship to monogamy.
If you two do take the plunge, one thing is for sure: it will require a lot of work (a.k.a. a lot of talking Like, soooo much talking. Like blah blah BLAH.) There's a lot to discuss, like the drawbacks of opening things up. One of you could fall in love with someone else, you could begin keeping secrets from each other, but also like…those things can happen at any time regardless of set rules and regulations. There are also the benefits! This new chapter might leave you feeling simultaneously sexy, young, wild and free and supported by the person you may love for your whole damn human life!
Lay down some ground rules first. I know couples who just kiss other people; some who go full sex, group sex, sex parties; couples who tell each other everything; couples who don't tell each other anything. There are so many ways it can work and I feel lucky to live in a time when we are having these conversations—a time when we're able to say it's insane to think that one single person could give us everything we might need for eternity.
Also bear in mind, whatever you decide doesn't have to be a final decision. I think these things should be an ongoing conversation—perhaps you can have weekly or monthly check-ins. I know in the past I've wanted to be open, or "ajar" as I call it, while traveling and other times I've wanted to be monogamous and feel extra yearning for my partner while apart. Things change, the sun sets, fruit rots, but hopefully your love for your partner can remain strong while you both explore these new nourishing experiences. And if not, onto the next. Nothing lasts forever, which is still surprising to me.
I think my fuckboy radar is broken. Where do I find a nice guy? Am I supposed to take up rock climbing or something?
Unfortunately, the results are in, and rock-climbing shoes have never made anyone horny…and why do you have to carry around those little bags of dust? Honey, I'm dry as a bone. No thank you. That being said, if you are interested in rock climbing, on belay queen.
But whether or not you rock climb has nothing to do with meeting a nice guy. We can't control whose paths we cross (although I did stop taking the L train from 2017-2019 for erotic reasons). All we can control is how open we keep our hearts and minds. I'm willing to bet that your fuckboy radar is not broken, you've just met some assholes. But thankfully—although it usually doesn't feel this way—not everyone is an asshole. We've spent so many years on the internet saying MeN aRe TrAsH!!!! But they aren't all trash. Kind, sensitive men do exist and instead of wondering where to look for them, ask yourself where you enjoy being. You're likely to meet someone you vibe with in an environment that makes you happy. And as you continue to meet people whose interests you do share, allow yourself to go for people who might have not been your type in the past. When I first met my current boyfriend I was like "He's not my type." Now? I'm clinically addicted to spending every second with him. Love is a tricky little bitch!
My boyfriend and I are about to move into our first apartment together. Is painting the living room pink an insane idea?
It would be insane to not paint it pink. Leopard print is a neutral. Minimalism is over. Put on a stupid hat, go forth, and embarrass yourself. I'm bored! It's 2023! Let's have a bit of fun already.
I feel broke AF after this past holiday season. Any ideas for fun things to do in NYC that don't instantly vaporize $100?
Wait I have amazing news—the best thing anyone can do in NYC is free. That's right I'm talking about WALKING! Whether you're meeting a friend on the High Line or hot girl walking through Central Park with your Murder Podcast of choice coursing through your ears, walking is the best way to see the city and feel ALIVE. I love wandering around the West Village, traipsing over the Williamsburg Bridge, or even taking the train way uptown and walking down the West Side Highway all the way to Battery Park.
The city is a living, breathing beast—taking a stroll is like hopping on for a ride. Giddy Up Cowgirl! And If you have to peepee like a lady, Bergdorf Goodman has the best free restrooms in midtown. Of course nothing is as romantic as walking through the rain or shivering into your scarf like a divorcee whose kids aren't speaking to her at the moment, but I know the weather sometimes isn't ideal for walking. In that case, might I suggest exploring one of the many gorgeous branches of the New York Public Library? I love going to the Rose Reading Room at the Bryant Park library to read, write, or just stare into space and think about every bad thing I've ever done. If you go with a friend or a lover it's fun to bring drawing pads and sketch each other in silence. Art is all around.
If you're looking for something a bit more lively, try the Free Thursday nights at the Brooklyn Museum, Free First Friday nights every month at the MoMA, or go to galleries—the gallery app See Saw lets you see what's on at all the galleries in the city. You can even create a route by neighborhood.
As you're strolling there's always the dollar slice, a bodega coffee, or my favorite cozy soup and treats from Vanessa's Dumpling House, which now has four locations around the city. The cheap dive bar is also alive and well in the East Village—my friend says the drinks at St. Dymphna's on Avenue A are half off 'til spring.
Lastly, and I do have to say I wouldn't wish this on anyone, but there are many free and/or cheap comedy shows happening around the city… Hell, you might even catch me on stage singing one of my signature Slutty Songs. The Comedy Bureau usually has a full calendar of what's on every week.