SAG Awards 2018: Actresses Wore Bold Statement Dresses on the Red Carpet, But E! Still Refused to Ask About Fashion
Fashion deserves its place in the awards season discussion.
---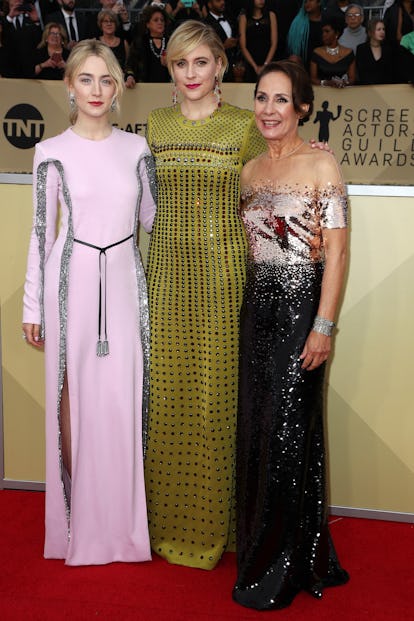 Frederick M. Brown
Two weeks after all of Hollywood wore black at the 2018 Golden Globe Awards in support of the Time's Up initiative, they returned to the red carpet for the second major awards show of the season, the 2018 Screen Actors Guild Awards, on Sunday evening. And in place of the poignant black gowns were triumphant, glorious sequins.
There was Alison Brie in a striking, one-shouldered crimson red Peter Dundas with lightning bolt-esque sparkling accents. Tracee Ellis Ross in a glorious caped Ralph & Russo. Millie Bobby Brown, pairing a light pink Calvin Klein By Appointment with white Converse. Brie Larson in a joyful multi-colored Gucci creation. Elisabeth Moss in Adam Selman. Nicole Kidman in Armani. Mandy Moore in Ralph Lauren. Sadie Sink in Chanel. Really, the list goes on.
But not that you'd know any of that from E!'s red carpet broadcast. Sure, the ever-popular pre-awards show had its usual roster of A-listers swinging by for their 45 seconds with Giuliana Rancic, but following the network's Golden Globes game plan, the anchor completely ignored the fashion at hand, save for a stray, "You look amazing."
Yes, Giuliana, we know they look amazing. This is why they are movie stars. And this is why we're watching. Let's be frank—we aren't tuning in two hours ahead of the already too-long awards show to hear Sean Hayes talk about how weird it was to be revisiting his Will & Grace character so many years after the fact.
Following the Golden Globes, the network faced plenty of criticism for their staunch refusal to ask actresses about what they were wearing, on an evening when more emphasis was put on what they were wearing than ever before. Of course, it wasn't about the dresses themselves, but in a way, it sort of was—it was a striking, visual reminder of an important movement, largely facilitated by stylists and designers who worked very hard to create these memorable moments.
It was at the Globes, as well, that E! anchors Rancic and Ryan Seacrest were faced with some tough questions themselves, as Debra Messing and Eva Longoria, among others, asked point blank about former anchor Catt Sadler's decision to leave the network due to pay discrepancies with her male counterparts. Two weeks later, without Seacrest as co-host, Rancic appeared to have read up on the internet's disapproval, and went on the offense, asking one of her first interviewees, Alison Brie, about her brother-in-law James Franco's alleged sexual misconduct. It was a shockingly bold question from the E! anchor, and right out of the gate, no less.
But, not so fast. It seemed like Rancic ran out of gas too quickly. As for continuing the conversation about Time's Up, which many stars continued to support sartorially with the now-familiar pins, Rancic seemed to reserve those questions for a select few interviewees—and, interestingly enough, mostly the men among them, particularly when women were standing right next to them. Really, why ask Timothee Chalamet his thoughts on the movement—and, if we're asking the hard questions here, not bring up his work with Woody Allen—only to foist upon Saoirse Ronan, an actual woman standing right there, the tired questions about adapting an American accent for Lady Bird, and how wacky her name is pronounced.
These movies have been out for months now, which means these stars have been talking about them ad naseum—any mildly amusing story has been told at this point. Know what we don't know? Anything about these striking dresses mere inches away from you that have never been seen until now. On no less than three separate occasions, the actors themselves asked Rancic who made her dress. See, even they are bored of talking about their movies.
By not asking about fashion—an integral part of the whole awards circuit dog-and-pony show—you are insinuating that dressing up for and caring about a cause are not connected. As seen at the Globes, fashion can be, and so often is, a powerful expression of self. But how are we to know what these actresses were trying to convey with this sparkling, notice-me gowns? Was it invoking "Khaleesi's warror shaman," as Allison Janney said of her Yanian Couture gown; which, she had to announce herself apropos of nothing, clearly feeling the statement she was making in the ensemble? Were sequins a powerful armor of sorts? A mirror-like notion of the industry's self-reflection and reassessment? A powerful statement of women standing out and shining on?
I guess we'll never know.
Related: Golden Globes 2018: How All the Women on the Red Carpet Protested
"I Will Not Be Silent": Hollywood's Biggest Names Pledge to Speak Their Minds