10 Minutes with Six-Time Olympic Champion Usain Bolt
In New York earlier this year to celebrate the Hublot flagship store opening, the Jamaican sprinter talks training for Rio and his Olympic goals.
---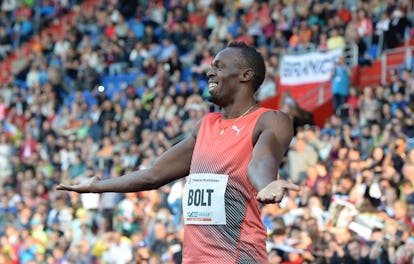 Late last week, news broke that Usain Bolt injured his hamstring at the Jamaican Olympic trials, causing many to speculate whether the Jamaican sprinter would compete at Rio. Here's hoping he makes a quick recovery, as earlier this year, he told W that these will likely be his last Olympic Games. In April, he traveled to New York to help the watch brand Hublot (he's been a brand ambassador for the past seven years) open its Fifth Avenue flagship store. Padding around in his socks inside a suite on the 10th floor of the Pierre Hotel in New York, Bolt moved quietly and carefully, picking his way through the 18th-century style furniture. It made sense: a stubbed toe would have more severe consequences for a six-time Olympic gold medal winning athlete than your average hotel guest. With three months to go until Rio, he seemed calm and collected—yet firmly adamant that the forthcoming summer Olympic Games would be his last. "My coach keeps telling me to say I'm not going to retire. That I should just go through the motions and see what I feel every year, and see if I really want to do it, but personally, I want to do it."
You must be training pretty intensely right now. What is your regimen like? Right now, I'm back to once [daily]. Initially, for three days a week I was up to two, because early in the season I had some issues with my ankle, so I had to start over and pretty much we had to cram a lot of work into one week, but I'm back to once daily now training. And so it's probably six to eight hours a day I train.
What's a workout like for you? I will go to the weight room in the morning, which I will do probably an hour-and-a-half to two hours, depends on what is required that day. Then I'd have track workout, which is three to four hours, again, depends on what the coach decides. And then I always have abs and core workout, then specific workouts after training. So it adds up, and then on some days, we have extra work in the morning just because coach says so.
Does your diet change dramatically when you're training like this? I am older now, so I've really adjusted my diet a little bit more. In the mornings, I will just have anything I feel like. As long as I have fruits with it, I can have anything I want really. But then in the evenings, I pretty much usually just have protein and vegetables, and then just go to sleep.
You're not that old, at 29. In track years…track is not like other sports. You do have track athletes that stay in this sport until like 35, 36, but I think when you get to 28 it's really difficult. So for me, it's hard, so I'm just trying to do as much as I can and retire.
Since this is going to be your last Olympics, do you have any goals? Yeah. Well, I have two main goals this Olympics, and one is defend my titles, and the other one is to try run sub-19 seconds for the 200 meter, and those are my two goals.
Do you feel more or less pressure because it's your last Olympics? I think I'm much more aware of what's going on now because it's my last Olympics. I'm trying to make sure every little detail is not overlooked. I'm trying to make sure I'm on top of things. It's hard, but we have to do it, so I'm really focused and ready to go.
Aside from the fact that it's your last one, do you think Rio will be different from your other Olympics in any way? It will be, because if I can do what I want to do when I get there it would be one of the biggest things that have ever been done in track and field. The three-peat has never been attempted, ever, and for me, I think it will add to my legendary status. I want to become one of the greatest athletes ever to have competed in any sport, so for me, that's what it means.
What do you remember from your first Olympics? I just went and did it without expectations. I just went and did my best for me, and after doing what I did, it was just amazing. I remember going there and I made a video and they stole my phone. Oh my God. I did a video where I was saying oh, I'm going there to win three gold medals, and I'm going to be excited and I'm going to make a video on my way back. And I made two videos, but they stole my phone, and I didn't actually download it. Just a random person just stole my phone. Now, I don't have those videos, which I'm not really happy about.
Wow, that's a bummer. After the Olympics, you have the World Championships in London, which will essentially be your swan song, correct? My coach keeps telling me to say I'm not going to retire. I should just go through the motions and see what I feel every year, and see if I really want to do it, but personally, I want to do it, but my coach says just take your time, don't rush. You might feel like you don't want to do it, but after the World Championships in London you might feel like you can go another year, so he says just take it a step at a time and see how I feel when the time comes.
Why do you want to retire? Because I think I have done everything there is to do in the sport, and when I had a conversation with Michael Johnson, I was like why did you retire? You were on top of your game. And he was like, 'I'd done everything that I wanted'. I've accomplished all my goals and done even more, so there was no reason for me to stick around anymore. He says when you don't have a goal and you're not driven then you start losing races because you don't want to train as much, so I fully understand what he's saying because now I understand where he's coming from.
Do you have any idea what you want to do with your life after racing? I definitely know I'm going to be working a lot more with my foundation when it comes to developing the kids in Jamaica. Also, we're working on a clinic in Jamaica because a lot of kids can't afford medical attention and stuff like that. I'm trying to make it easier for them, and also, I'm trying to work with IWF [International Weightlifting Federation]. I've already talked to the president and being a part of the IWF in any way just to try to encourage and just try to uplift the sport, in any way I can to just help the sport.