From Heartbreaking to Celebratory: A Collection of Photographic Reactions to the 2016 Presidential Election
To mark the one year anniversary of the 2016 presidential election, we've gathered some work shared by photographers on the night Donald Trump was elected as president of the United States.
---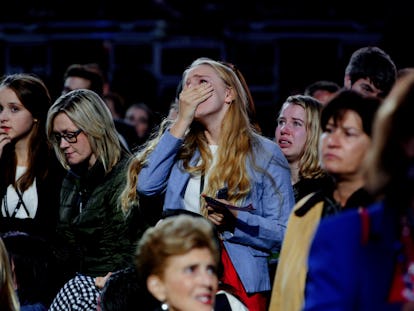 Photo by Zak Krevitt.
On November 8, 2016, photographers and journalists around the nation captured the contrasting reactions to the stunning 2016 election results. While many of the faces in the photographs wear expressions of shock, disdain and terror, the photographs also paint a portrait of those who aligned themselves with the victory of Donald Trump.
Clinton supporters expecting a victory for the Democratic Party looked on in horror as the election results rolled in. For photographer Landon Nordeman, there were, "no words," to describe the revelations that hit Clinton supporters on November 9, 2016. The sorrow and surprise is palpable in the photographs, and the red, white and blue imagery reads as tragic and heartbreaking, a stark contrast to the energy captured in photographs of Trump supporters that long evening.
Supporters of Donald Trump, however, celebrated. Some of the photographers capturing the jubilant Trump supporters shared, in their own words, their thoughts on the the election, describing the results as "surreal and sobering." A photograph by Dina Litovsky even captures two lovers sporting "Make America Great Again" hats embraced in a victorious kiss.
Photographer Andre D. Wagner shared his photograph of a flag-waving Trump supporter in front of Radio City Music Hall, and cited James Baldwin as a source of hope and motivation to get to work after the results came in. "I will say, I can't wrap my head around the fact that after all the racism, misogyny and hateful rhetoric people still chose Trump," he wrote. "But my job is to present viewers with undeniable facts, through my sensibility. Here's some of my work from last night but I ask one thing of you: when you view works on social media, take one more second to think about it outside the realm of likes and comments."
Related: Here's One Simple Protest on the Anniversary of Trump's Election: Let Out a Primal Scream Like Yoko Ono
Laurie Anderson Leads 30-Second Scream