South Korea's Curious Skincare Trend: "Snail Beauty"
Yes, as in derived from snails. Only, even before the trend reaches our shores, the Koreans are already adding another gimmick to their invention: Gold.
---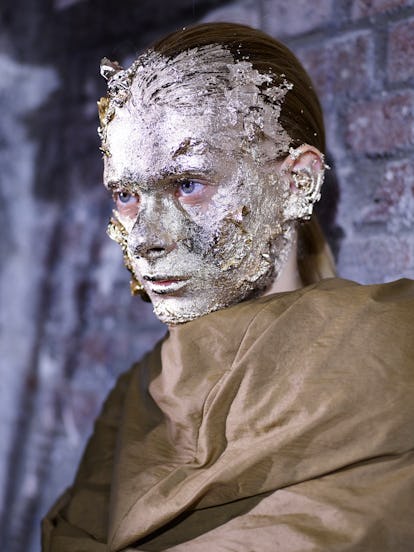 Snake venom and donkey milk face masks, horse oil cream, smile-line mini masks—you can find just about anything when it comes to beauty products in Korea. But on my recent trip to Seoul, there was one genre of stuff that stood out most: beauty products derived from snails that were also laced with gold. They were everywhere, in the form of face and eye masks, lip balms, and creams. If you are already appalled out and thinking snail beauty is a hard 'no' for you, listen up.
Snail mucin, which has been in use in many Korean beauty products for several years now, is an extract (yes, harvested from actual snails) that has a bevy of nutrients like hyaluronic acid, glycoprotein enzymes and antimicrobial peptide (all substances often found in beauty products). "Studies have shown they help stimulate formation of collagen and elastin, as well as restore hydration," said Charlotte Cho, author of The Little Book of Skin Care: Korean Beauty Secrets for Healthy, Glowing Skin, a certified esthetician, and the cofounder of Korean beauty and lifestyle shop Soko Glam. "This ingredient has become popular because it's an effective ingredient when it comes to anti-aging and minimizing acne scarring."
But what does the 24-karat gold do for your skin? The Tony Moly Intense Care Hydrogel, a 24-Karat gold and snail mask I tried several times, claimed "the gold soothes skin irritated by external stimuli, making skin clear and refreshed looking." The result: the slimy mask felt hydrating while I wore it for about a half hour, (it was a bit of a challenge to keep it on my face to be honest), but there were no visible, positive results afterwards. None.
Several beauty experts weighed in, and they all seemed to agree the gold doesn't do too much in this case. "Gold in skin care has been touted to add hydration and improve elasticity, but if there are only trace amounts in the product, the benefits of the mineral can be slim," said Cho. "If want a truly effective ingredient or product to prevent premature aging, I'd focus on the snail mucin, sun screen, and topically applying vitamin C or humectants to the skin. I don't think gold and snail mucin combo is extra beneficial."
K-beauty expert Christine Chang, co-founder and chief executive of Glow Recipe, said, "I honestly think it's more of a marketing angle than anything else. Korea caters a lot to the Chinese, and they are very into the snail beauty trend and they love red and gold packaging." (For the record, Glow Recipe doesn't stock snail-based products because they focus on natural, harsh-free products.)
Instead, Cho suggested sticking with more straight forward snail-derived products, like the SkinFood Hydro Fitting Snail Mask Sheet, the Missha Cell Renew Snail Cream and the Soko Glam the COSRX Advanced Snail 96 Mucin Power Essence, which, she said, "contains 96 percent snail secretion filtrate for super intense repair and hydration." It seems this is one case where it doesn't pay to go for the gold.
Photos: South Korea's Curious Skincare Trend: "Snail Beauty"