A Wrinkle In Time
According to research out of Japan, 35.09 is the exact age at which beauty begins to fade. Sloane Crosley plays beat the clock.
---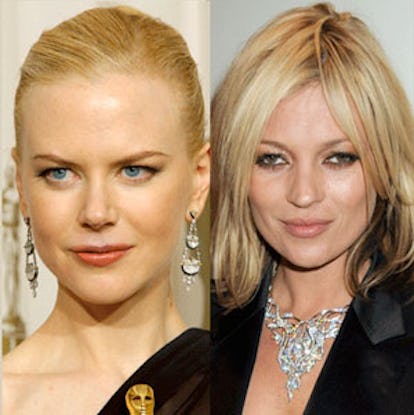 These were the days before extractions and lasers, before cooling gels and warming peels, before pores, period. We were nine and 10 years old and bored—little girls who couldn't wait to be women. We'd flock to one another's homes after school, where a favorite activity was rummaging through the kitchen for "beauty ingredients." I would like to say that we possessed some natural compulsion for the holistic, a Darwinian instinct steering us toward ripe avocados. A sea salt-and-lemon-juice scrub perhaps? An oatmeal-and-olive-oil mask? I don't think so. You can't possibly fathom the ins and outs of a prepubescent beauty treatment until you've felt the strange but exhilarating tingle of a cottage-cheese-and-Pop-Rocks facial.
Flash forward two decades. At 32, my personal beauty routine has advanced only marginally. Today I wash my face with a gentle cleanser and apply Kiehl's moisturizer before bedtime. I use Ole Henriksen eye gel when I think of it, and go for facials when spa gift certificates appear as a professional thank-you or in a gift bag. Once ensconced in a facialist's chair, I let myself be coaxed into all sorts of treatments, because I'm there already, so why not?
But as I approach my mid-30s, the consensus among my female peers is: It's time to get serious. The beauty apocalypse is drawing nigh, and the signs—they are everywhere. Almost overnight I've become conscious of showing my upper arm to the best advantage in photos and of the tiny threads of gray that hide out near my temples. These minor annoyances are easily overlooked…for now. I'll soon hit a point, however, when it's "all downhill from here." The billion-dollar question is, Where's "here," exactly? The answer, say researchers at Japanese skincare company SK-II, is 35.09.
Yes, after measuring the skin's "power quotient" in women of different ages, SK-II scientists have concluded that the age of 35.09—or approximately 33 days past your 35th birthday—is the precise tipping point: You'll start to look older from the moment you wake up that morning. And that's not all! From that instant on, everyday stresses will have a more profound and lasting impact on the condition of your skin. Theoretically, you can hamper the onslaught of fine lines, wrinkles, and decreased elasticity—if you never leave the house. Alternatively, you can start using SK-II's beautifully packaged Skin Signature Melting Rich Cream now. Or, you know, else.
I understand that the concept of antiaging skincare is founded on fear and insecurity. Still, the specificity of 35.09 got to me. According to SK-II's press materials, this finding is the result of a collaborative study that the company conducted with Fukui University. I'm a bit of a Japanophile myself, but even I had to arch an eyebrow (at the risk of more forehead wrinkles) when I pronounced this institution's name aloud. In addition to the graph charting the inevitable decline of my face, I would have liked to see the graph charting just how seriously I was supposed to take all this stuff. Is beauty not in the eye of the beholder—especially if it's dark and the beholder doesn't have his glasses on? One woman's 35.09 is another's 27.06. I'm talking to you, Demi Moore.
The larger question, though, is this: Who needs another clock? There's already a marriage clock, a career clock, a biological clock. Sometimes being a woman feels like standing in the lobby of a hotel, looking at the dials depicting every time zone in the world behind the front desk—except they all apply to you, and all at once. It's embarrassing to admit, but given the chance to turn back just one of these timepieces, I'd choose the beauty clock. By now I feel I have a pretty solid relationship with the other deadlines. I know where my career has been and where it's going. I don't hear the baby alarm ringing—yet. But when it comes to the actual physical wizening of my face, the only thing I know for sure is that choosing to "age gracefully" will not slow the rate of decline. Thus, I decided to give the SK-II regimen a shot.
The first thing I discovered upon opening the instructions was that if I ritually applied every cream, lotion, tonic, and cleanser that SK-II recommends, I'd never get out into the world before lunch (thereby protecting my skin from sun damage, so there you go). Adopting a skincare routine is like packing a bag for the weekend: No single item seems particularly heavy, and yet you can barely lift the end result.
Instead, I began with the cleanser and added a step each night: the lotion, the essence, the eye film, the refining cream. I was running out of room in my bathroom. Yet my skin really did brighten. I had never thought of it as uneven before, but having a chin and cheeks that are the same texture was a new experience. After several weeks I was finally ready to, if you'll pardon the pun, face the grand finale of the Melting Rich Cream.
True to its name, the unguent does feel remarkably like putting cold butter on your face—it sort of liquefies as it soaks in. And after a few more weeks, I began to see an actual difference in my skin, specifically around my eyes. At least…I think I did. I suddenly found myself at my own tipping point—the juncture of Real Results and Imagined Placebo Effect.
Recently, however, I was packing one of those mysteriously heavy bags for a weekend away in upstate New York. There was no room for all my various jars and pots and tonics, and I was loath to leave them around the communal cabin bathroom, where they would be ripe for judgment. And so, after being trapped in traffic for hours in a stuffy car, I pulled into a roadside drugstore en route. They were out of face wash, so I bought a brightly designed pack of "refreshing cleansing pads." Back in the car I lowered the mirrored visor and got to work. When I was through I smelled like some unholy combination of kiwi and dryer sheets. My poor, spoiled face—so many weeks of the best antiaging money can buy, and now this!
Naturally, the little girl in me has since developed an addiction to those pads. They now have a privileged place in my product-packed bathroom—right next to the Melting Cream, which, sad to say, I haven't touched in weeks. Perhaps it's because attempting to stop the beauty clock ultimately felt futile. Or maybe it's that I'm in such deep denial that I don't want to squander 20 minutes of my allegedly waning youth every evening focused on that particular clock.
Still, in a nod to the reality that I am in my 30s, I haven't entirely said goodbye to antiaging products. I use the SK-II toner every day, and I have the rest of the arsenal on standby. But the cheap cleansing pads remain my first line of defense. I have no idea what they'll do to me in the long run. I just know it feels good to be clean.